SA Products 4-Piece Parasol Weights – Durable, Heavy-Duty Plastic Base for Cantilever Umbrella Stand – Fillable with Water or Sand – Detachable, Portable Design – For Use in the Patio, Garden or Beach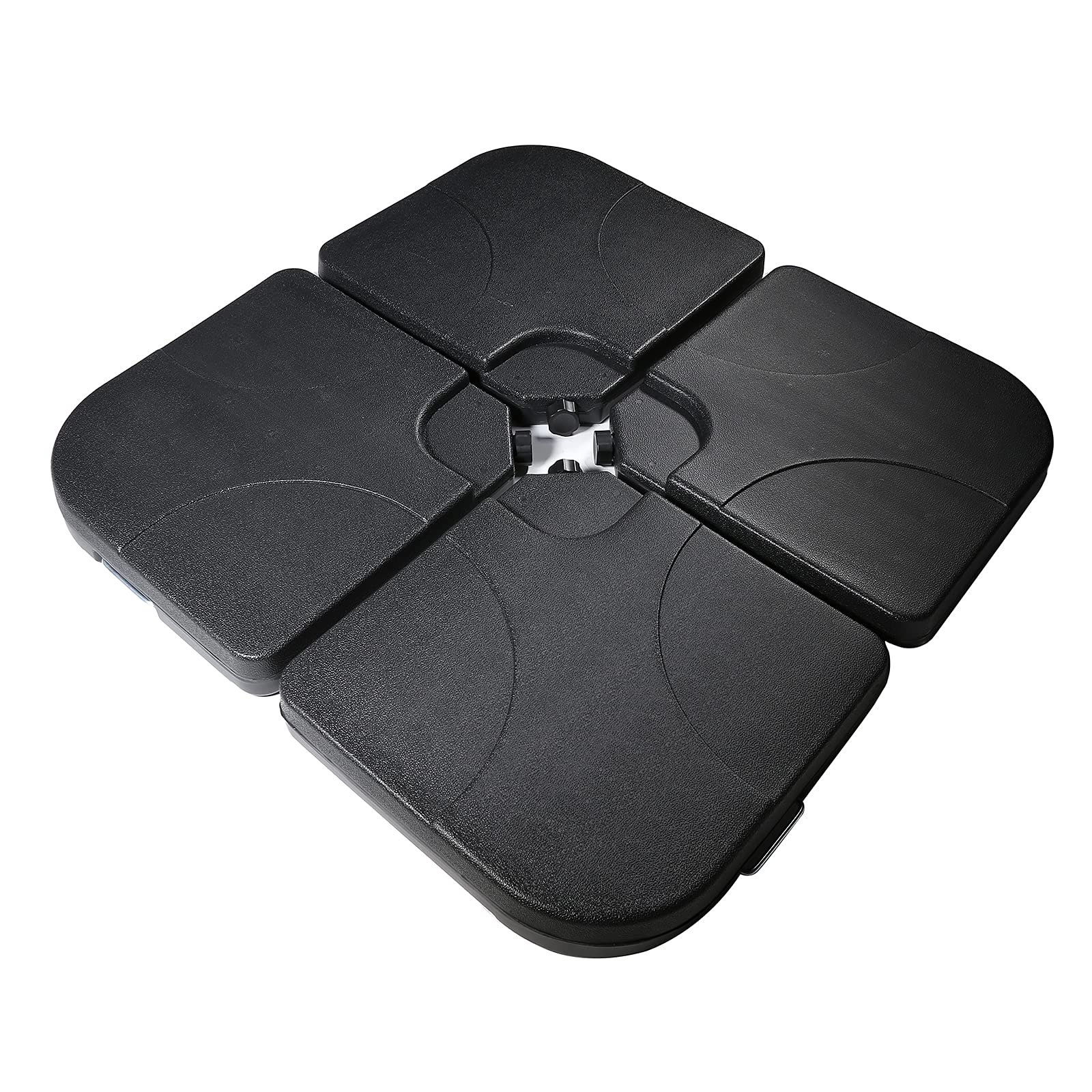 ✅ KEEP YOUR UMBRELLAS UPRIGHT – Don't let your patio umbrellas fall or get taken by the wind. Our weights are designed to keep your outdoor umbrella on the umbrella base no matter how windy it gets.
✅ EFFORTLESS SET-UP – Simply fill these umbrella weights with sand or water before assembling them. Each umbrella base weight comes with a tight screw cap to ensure the contents won't spill.
✅ DURABLE PATIO & GARDEN ACCESSORIES – Our four-piece sand or water weights are crafted using thick and sturdy materials that won't easily crack, or warp. Use them under the sun, rain, or snow.
✅ SUITABLE FOR ANY LANDSCAPE – These patio umbrella base weights can also be used in your garden, balcony, courtyard, lawn, or swimming pool area. You can even use it for your outdoor stalls.
✅ BRING IT WHEN YOU TRAVEL – Got a beach trip coming up? Bring these portable beach parasol base weights with you. You can easily set up your umbrellas anywhere so you can always stay in the shade.
Is the parasol in your patio or garden always in danger of being blown by the wind?

Chilling in our garden, lawn, or yard is always a great way to get a breath of fresh air. But when the sun starts to shine too brightly, it's important that we have some kind of shade to keep our face and body shielded. Thankfully, parasols exist to give us the coverage we need.

Although setting up an umbrella is a breeze, keeping them up isn't as easy. Strong winds can easily sweep away our parasols or cause them to fall. This isn't only a hassle for us but can also be a danger, especially when little kids are around.

Keep your umbrellas upright with the SA Products Parasol Weights!

Make sure your sunshades don't get blown away. These base weights are designed to keep your umbrellas stable and in place even if it starts to get too windy. All you have to do is fill them up with water or sand before assembling to ensure that they're heavy enough to hold your parasol down.

These weights are made with durable, top-grade materials, so you're confident that they won't easily break, crack, or warp easily. With this, you'll be able to use this 4-piece set of weights outdoors under any weather condition.

You can use these base weights in your garden, lawn, courtyard, balcony, or patio to keep your umbrellas in place. Thanks to its lightweight and portable design, you'll also be able to bring it anywhere you go. Use it on your next beach trip or when you go camping, hiking, trekking, or fishing.

Still not convinced? Here are more reasons you should get these weights:

✅ Easily fillable
✅ No leaks and spills
✅ Easy to clean and store

Don't let your umbrellas fall. Add the SA Products Parasol Weights to your basket TODAY!
| | |
| --- | --- |
| SKU: | B096L2Q281 |
| Dimensions: | 55.2 x 53.79 x 31.2 cm; 8.95 Kilograms |
| Part: | SA1745 |
| Manufacture: | SA Products |
| Reference: | SA1745 |