Hanafubuki Japanese Bonsai Garden Tool Starter Kit, Made in Japan, Satsuki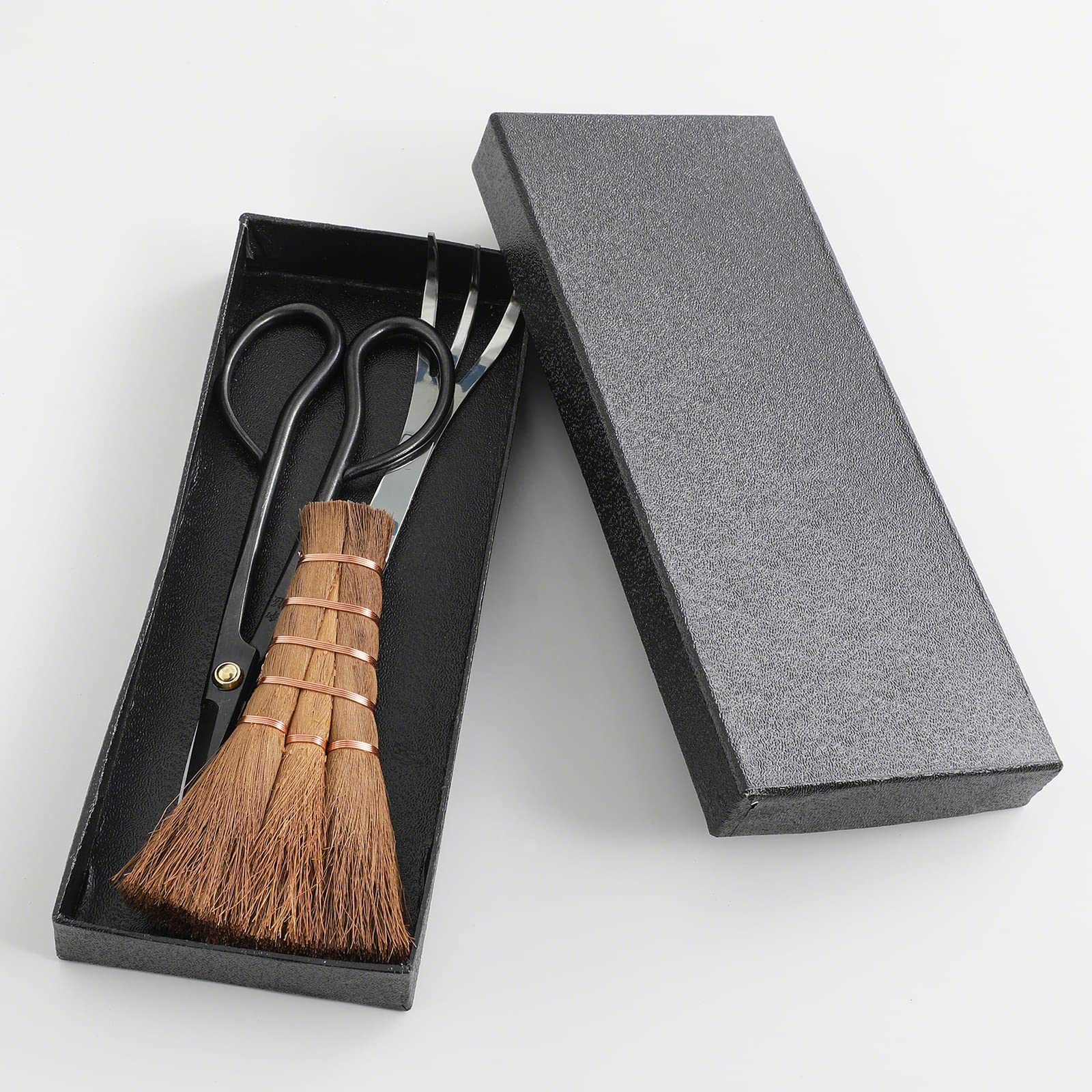 Hanafubuki Japanese Bonsai Garden Tool Starter Kit, Made in Japan, Satsuki Scissors, Stainless Tweezers with Rake, Chinese Broom – 3 PCS Se
Bonsai tools starting kit for beginners! Set includes bonsai satsuki scissors, tweezers with rake and bonsai broom
【 Sturdy and Very Sharp Blade】 Ideal for bonsai, ikebana flower arrangement, gardening work, and delicate trimming work; Clean cut: won't prevent your plants' growth by harming its branches
【 Bonsai Satsuki Scissors 】 – Size: L 7.08 x W 3.74 x H 0.67 in (180mm x 95mm x 17mm) | Length of Blades: 2.04inches(52mm) | Weight: 5.5oz (156g) | Material: S58C black carbon steel | Color: Traditional Black
【 Stainless Tweezers with Rake 】- Size: L 8.66 x W 1.18 x H 0.98 in (220mm x 30mm x 25mm) | Weight: 1.5oz (43g) | Material: Stainless steel
【 Bonsai Broom 】- Size: L 5.51 x W 2.36 x H 0.98 in (140mm x 60mm x 25mm) | Weight: 0.6oz (18g) | Material: Chinese windmill palm
【Specification】

Size: L 7.08 x W 3.74 x H 0.67 in (180mm x 95mm x 17mm)
Length of Blades: 2.04inches(52mm)
Weight: 5.5oz (156g)
Material: S58C black carbon steel
Color: Traditional Black
Origin: Made in Japan
Size: L 8.66 x W 1.18 x H 0.98 in (220mm x 30mm x 25mm)
Weight: 1.5oz (43g)
Material: Stainless steel
Origin: Made in Japan
Size: L 5.51 x W 2.36 x H 0.98 in (140mm x 60mm x 25mm)
Weight: 0.6oz (18g)
Material: Chinese windmill palm
Origin: Made in China 【Package Content】
1 x 6.88 in (175mm) Satsuki bonsai scissors
1 x 8.66 in (220mm) Tweezers with rake
1 x 5.11 in (130mm) Bonsai Broom (made in China)
【Caution】
The scissors' blades are very sharp, please handle with care, supervise children, and instruct them in proper use.
— Made in Japan Bonsai Tools Kit ! —
Set includes bonsai satsuki scissors, tweezers with rake and bonsai broom.
Must-have bonsai tools value set
【Sturdy and Very Sharp Blade】
Ideal for bonsai, ikebana flower arrangement, gardening work, and delicate trimming work.
【Clean Cut】
The cut won't prevent your plants' growth by harming its branches.
| | |
| --- | --- |
| SKU: | B083Q2XCYW |
| Dimensions: | 23.6 x 9.4 x 2.8 cm; 42.52 Grams |
| Manufacture: | Hanafubuki |