Geemarc 95dB Loud Alarm Clock with Bright Flashing Lights, Vibrating Pad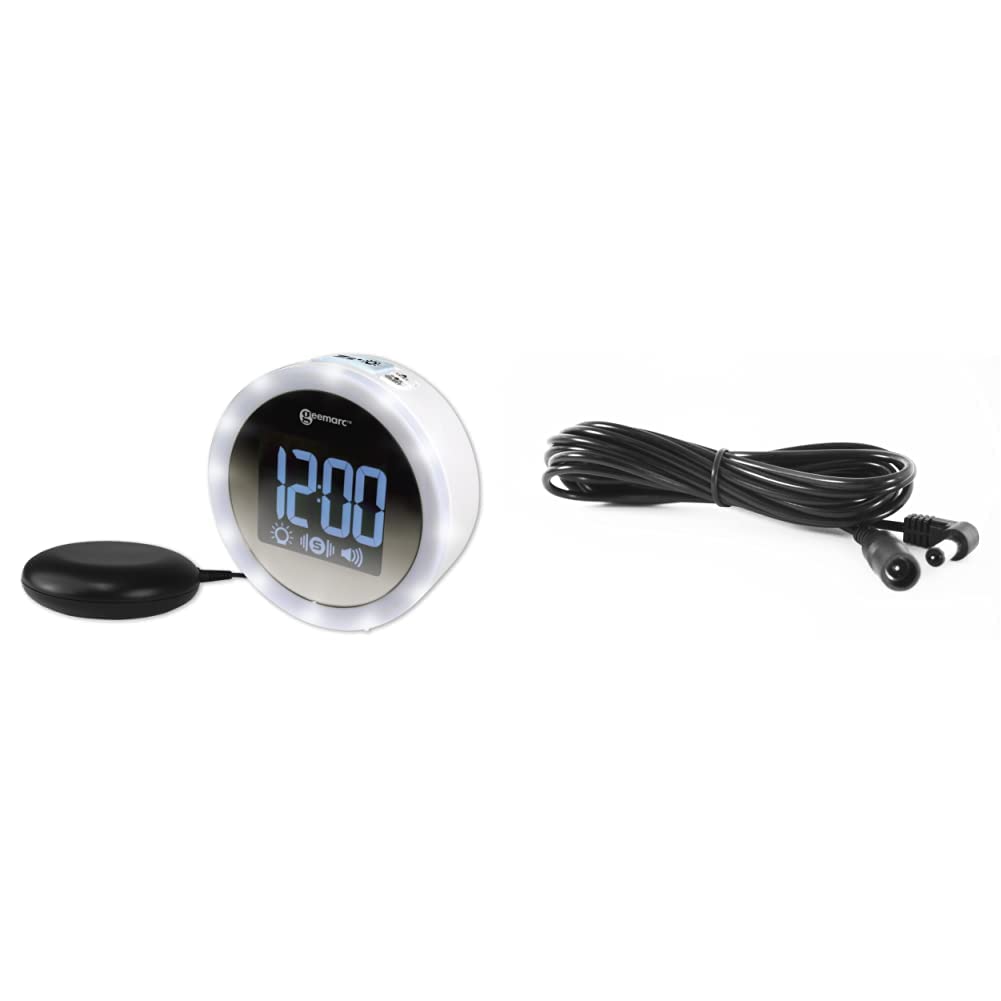 Geemarc 95dB Loud Alarm Clock with Bright Flashing Lights, Vibrating Pad and Snooze Function – The WAKE 'N' SHAKE Star for the Hard to Wake & CLA2 EX- Bed Shaker Extension Cord
Product 1: ✔️ EXTRA LOUD ALARM – With its 95dB loud alarm, the WAKE 'N' SHAKE Star is the ideal alarm clock for people with hearing difficulties and heavy sleepers. If you are wondering how loud this alarm really is, think that the sound made by a hairdryer is usually measured at around 95dB as well.
Product 1: ✔️ VIBRATION PAD – If its extra loud alarm doesn't wake you up, its vibration pad surely will! Delivered with our deaf clock, this pad can be placed under your pillow or mattress, and vibrates when it is time for you to get out of bed.
Product 1: ✔️ SNOOZE BUTTON – Our vibrating alarm clock has an adjustable 5 to 60-minute snooze, as well as a 1-hour alarm duration. Pressing on the clock's large snooze button when it is ringing will mute the alarm and allow you to enjoy a few extra minutes of sleep… until you are eventually woken up again.
Product 1: ✔️ 4 ALARM SETTINGS – Depending on what works best for you, have our deaf alarm clock wake you up with either its vibration pad, both its alarm and vibration pad, both its flashing light and vibration pad, or all three at the same time!
Product 2: Connector type: Component
Product 2: ✅Extends the Bed Shaker cord to 15 feet/4.5 meters
Product 2: ✅Works with all Sonic alert alarm clocks
Product 2: ✅Works with most Geemarc Telephones and clocks
95dB Loud Alarm Clock with Bright Flashing Lights, Vibrating Pad and Snooze Function – The Geemarc WAKE 'N' SHAKE Star for the Hard to Wake, Hard of Hearing and Deaf – USB Charging Port – UK Version
This modern looking alarm clock designed with a mirror effect on the front and its light halo differs from the standard alarm clocks. Thanks to a powerful amplification (95dB spl), you will always be on time. If audible and visual alarms are not enough, the STAR is supplied with a shaker allowing you to set up the clock to 5 different alarm settings. You choose which is the best for you!
The clock can be used with batteries in case of power failure, however is supplied with a power supply. Your room will be so different with this glamorous clock lighting it up whenever you turn it on!
TECHNICAL SPECIFICATIONS : Supplied with an adaptor plug ; Backup battery (CR2032) in case of power failure (not included); Supplied with a shaker to put under pillow: Jack plug 5,5mm , Wire length : 2m.

Geemarc CLA2 EX- Bed Shaker Extension Cord for Wake n Shake range Sonic Alert Alarm Clocks
This cord allows you to extend the exisitng cable provided with the product up to 3 meters in case your telephone or alarm clock is on the opposite side of the bed or not near a power supply.
This cord will extend the cable from the vibratiing shaker to the telephone or alarm clock.
The vibrating shaker can then be placed under either pillow on either side of the bed.