Wooden Raised Grow Beds Planters For Garden Allotment – Ideal for Growing Herbs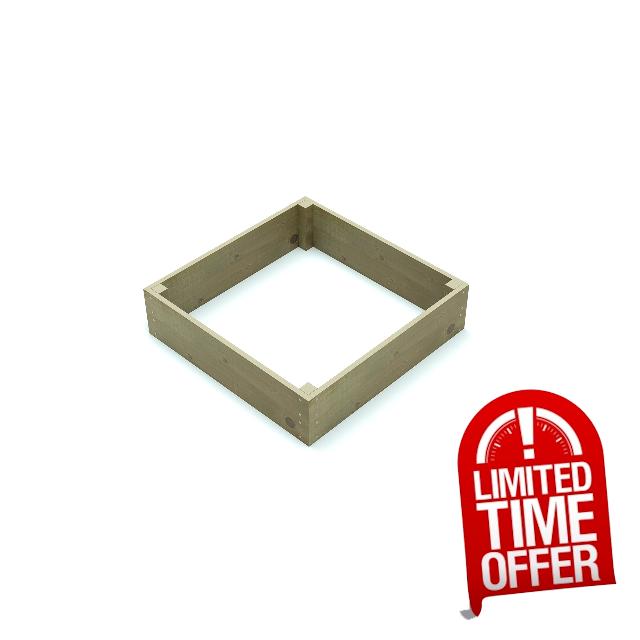 Wooden Raised Grow Beds Planters For Garden Allotment – Ideal for Growing Herbs, Vegetables, Flowers & Fruit – FSC Tanalised Timber (30cm (12″) High, 120cm x 120cm (4ft x 4ft))
Quick, easy and simple installation – assemble the raised beds for your garden in minutes with instructions included. The perfect solution to give your plants the best start to grow. Raised beds require less digging as the soil does not get compacted, helping with drainage and avoiding waterlogged soil.
The raised beds are made from selected FSC quality sustainable pre-drilled Timber – Thickness 25mm. The raised beds timber is pressure treated (Tanalised) with organic, soil association approved preservative for longer life. Strong 2" x 2" corner posts and all fixings included.
The timber raised beds are available in a large range of sizes and heights – just pick the size and height you require. Once you have set up your raised bed, wooden planters you can start growing your own vegetables, herbs, fruit and crops. Give your crops a head start!
Easy Access – raised beds make gardening easier by requiring less bending, kneeling or reaching due to your plants, flowers or herbs being elevated off the ground. Raised beds are Ideal for use with frames and netting.
Plant earlier in the year – any soil in raised beds in the garden will warm up faster than in the ground meaning you can give all your plants an earlier and better start.
Ideal for planting crops earlier than usual as the soil in a raised bed will warm up sooner than in the ground. Makes access easy. Less bending and reaching. Less Digging – Soil in a raised bed does not get as compacted as in the ground and the drainage is also better in a raised bed. These are a must if you are trying to garden on clay and impoverished soil. We offer the raised bed/planters in five height variations 6″,12″,18″, 24″ & 30″ and in various sizes. The beds are made from 6″ x 1″ nominal thickness boards of selected quality FSC timber, all timber is pressure treated with an eco-friendly preservative which will extend the life of your raised beds for up to 10 years. The raised beds are made from 6″ x 1″ nominal thickness boards of selected, quality timber. All timber is pre-drilled. All timber is sourced from FSC Forests. The corners are supported by 2″ x 2″ timber posts The boards are joined to the posts with the long-life screws provided. Easy to Assemble
| | |
| --- | --- |
| SKU: | B0BP2QB75Z |
| Dimensions: | 120 x 120 x 30 cm |
| Brand: | Gro Garden Products |
| Colour: | 120cm X 120cm (4ft X 4ft) |