Vanguard VEO Range T37M Backpack for Mirrorless Camera, Tactical Style – Beige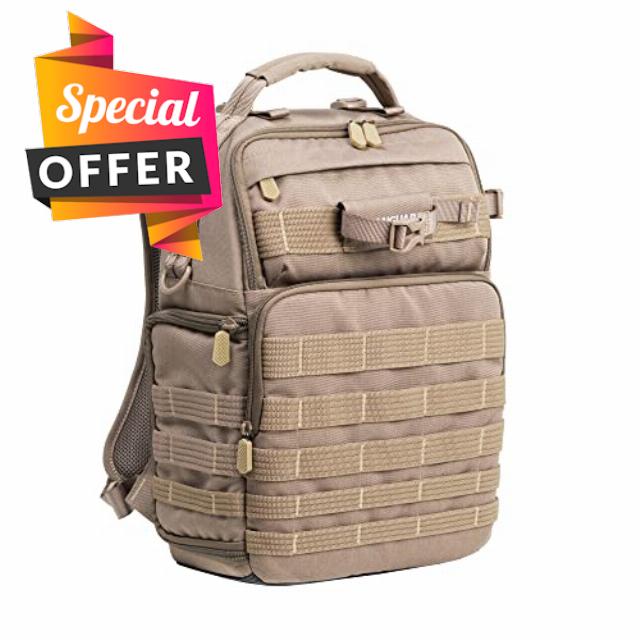 Vanguard VEO Range T37M Backpack for Mirrorless Camera, Tactical Style – Beige
Easy access – Rear access, fast side access, and ability to set up top-front access. Carry on – meets most major airline onboard size and form-factor restrictions*
Exterior webbing – to attach what you need for your trip. Daypack section – can be set up for everyday items or even more photography equipment. Holds an 11" tablet
Multiple pockets – for all the bits and pieces you need for your work. Comfortable – Well-padded ergonomic harness system and padded back with airflow. Weight: 3 lbs. Max Load: 15.4 lbs
Always protected – well-padded all around. Easy-open – with chunky textured zips that make it easy to open, even when wearing gloves. Rain cover included
Inside full dimensions: 10 x 4.5 x 14.6". Internal camera compartment: 10 x 4.5 x 8.3". Internal personal: 10 x 4.5 x 4.7". Exterior: 11 x 7.1 x 15.4". Liter capacity: 11
The VEO Range T37M BG Tactical Backpack is designed for photographers looking to carry a mirrorless camera, 4-5 lenses, a 9.7" tablet, and a travel tripod. The bag offers maximum versatility with a customizable interior and exterior webbing. There is also a removable daypack section at the top of the backpack for personal items or an additional camera kit. Alternatively, simply remove the interior dividers and you have a comfortable everyday or hiking backpack. The exterior has multiple webbing straps on the front and sides that can be used to attach other accessories. For example, you can attach the tripod foot pocket that comes as standard and, when used with the upper straps provided, allows you to carry a VEO 3GO travel tripod on the side or on the front for better balance. This backpack also comes with a detachable bottle holder that can be attached to the webbing when needed for longer trips. There are also multiple pockets for SD cards, cables, and other accessories that you may need for your shoot. With this bag, you can decide the best method of access for your setup. Enjoy full access to your camera and lenses from the rear to ensure maximum security on the go. Fully opened, this allows you to tailor the interior to your needs. For fast access, you can utilize the side opening. Remove the daypack compartment and set up the backpack for top-front access. This backpack features chunky, textured zips that make them easy to grip and open, even in cold and wet conditions, or while wearing gloves. With external dimensions of just 11 × 7 1/8 × 15 3/4″ and weight at 3.2 pounds, this backpack is suitable for use as hand luggage with almost every airline, but we still recommend you check with your airline for the latest information to make sure, as rules and regulations can change without warning.
| | |
| --- | --- |
| SKU: | B0857K9466 |
| Weight: | 3.2 Pounds |
| Size: | 37 |
| Dimensions: | 27.9 x 17.8 x 40.6 centimetres |
| Brand: | VANGUARD |
| Model: | VEO RANGE T37M BG |
| Part: | VEO RANGE T37M BG |
| Colour: | Beige |
| Size: | 37 |
---
From the manufacturer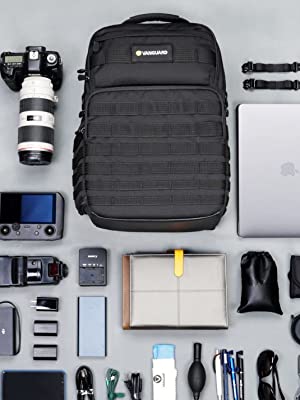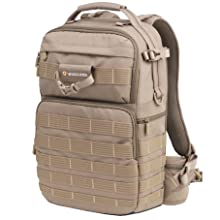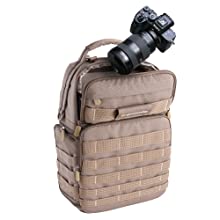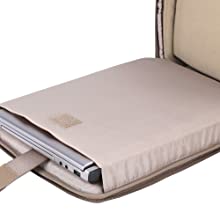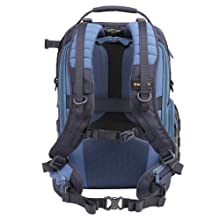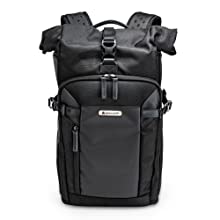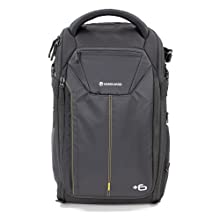 VEO Select Roll Top Backpacks
A premium and stylish roll-top design with all features you would expect from a leading camera bag brand.
VEO Select 39RBM

VEO Select 43RB
Available in black and green.
Sedona Wanderlust Modular Backpack
If you're looking to explore the great outdoors, then check out the Sedona Wanderlust, designed with Vanguard Pro Joan Vendrell.
Available in green
Alta Rise Expanding Backpacks
Traditional camera backpack with a twist as it expands by 6cm with a simple zip
Available in black
VEO 2GO Travel Tripod
Folding down to 32.5cm and weighing as little as 770g, the VEO 2GO is the perfect balance between portability and performance