19 Inch Digital Photo Frame, Electronic Photo Frame, Adjustable Brightness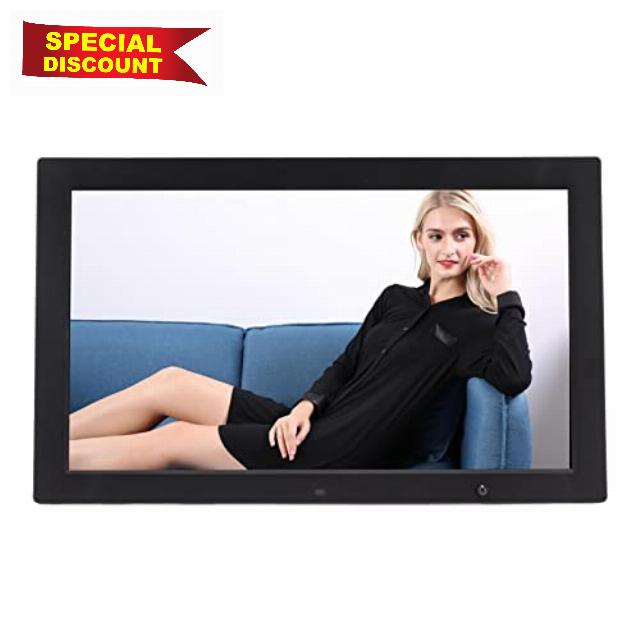 19 Inch Digital Photo Frame, Electronic Photo Frame, Adjustable Brightness Picture Preview for Bedroom, Office (UK Plug)
Easy to Plug and Play: The digital photo frame does not need to install any software, just need to insert the secure digital memory card. It supports up to 32G memory card (not included in the memory card)
Background Music: The sound is no longer limited to video playback. You can save your favorite songs as the background music of your favorite photos.
18 Inch Screen: The 18 inch digital photo frame has a display screen with adjustable brightness, which provides you with excellent and fine colors to reproduce every wonderful moment and present a beautiful visual feast.
Image Preview and Slide Show: Digital photo frame has image preview function, which is very convenient for you to find specific photos from many photos. You can enter the image preview page to view the photos, and then display them again. You can also set different slide effects, slide speed, repeat mode, breakpoint playback (only for video playback).
Human Body Sensing: The sensitive sensing distance of the digital photo frame is 0‑3 meters, and the sensing angle is about 120 degrees. After 30 seconds (the time can be set by yourself) when no human body movement is detected, the screen will be turned off in standby mode, and then the screen will be turned on automatically to continue playing content when human body movement is detected.
1. Human Body Sensing: The sensitive sensing distance of the digital photo frame is 0‑3 meters, and the sensing angle is about 120 degrees. After 30 seconds (the time can be set by yourself) when no human body movement is detected, the screen will be turned off in standby mode, and then the screen will be turned on automatically to continue playing content when human body movement is detected.
2. Image Preview and Slide Show: Digital photo frame has image preview function, which is very convenient for you to find specific photos from many photos. You can enter the image preview page to view the photos, and then display them again. You can also set different slide effects, slide speed, repeat mode, breakpoint playback (only for video playback).
3. 19 Inch Screen: The 19 inch digital photo frame has a display screen with adjustable brightness, which provides you with excellent and fine colors to reproduce every wonderful moment and present a beautiful visual feast.
4. Multiple Functions: 19 inch digital photo frame supports clock, calendar, alarm clock, timing on and off, rolling caption and automatic copy.The built in stereo output provides you with pleasant sound effect and dynamic hearing experience.
5. Easy to Plug and Play: The digital photo frame does not need to install any software, just need to insert the secure digital memory card. It supports up to 32G memory card (not included in the memory card)
6. Background Music: The sound is no longer limited to video playback. You can save your favorite songs as the background music of your favorite photos.

Spec:
Item Type: Digital Photo Frame
Product Material: ABS
Product Color: Black
Weight: Approx. 2005g / 4.4lb
Resolution: 1080P
Remote Control Battery: 1 x Button Battery CR2025 160mAh (Shipped with Built in Battery)
Screen: 19 Inch LED Digital Screen
Support Picture Format: JPEG, Pictures Can Be Enlarged and Rotated
Support Video Formats: MP4, AVI, MPG, FLV,
| | |
| --- | --- |
| SKU: | B0C5DH6VSK |
| Size: | UK Plug |
| Dimensions: | 50 x 43 x 9 centimetres |
| Brand: | TARSHYRY |
| Model: | TARSHYRYudnvx84it2-12 |
| Part: | TARSHYRYudnvx84it2-12 |
| Size: | UK Plug |