Celestron 11068 NexStar 6SE Computerised Schmidt-Cassegrain Telescope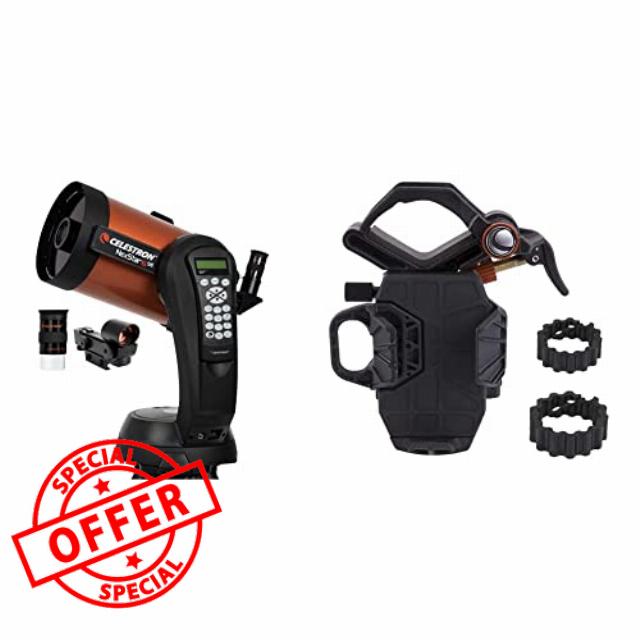 Celestron 11068 NexStar 6SE Computerised Schmidt-Cassegrain Telescope with Advanced GPS, Black/Orange & 81055 NexYZ 3-Axis Universal Smartphone Adapter, Black
Product 1: NEXSTAR COMPUTERISED TELESCOPE: The NexStar 6SE Computerised Telescope features Celestron's iconic orange tube design with updated technology and the latest features for amazing stargazing for beginners and experienced observers
Product 1: 6-INCH APERTURE: The six-inch primary mirror in this Schmidt-Cassegrain telescope for adults and kids to be used together packs enough light-gathering ability to observe the best that our Solar System has to offer, while retaining a compact form factor
Product 1: FULLY-AUTOMATED GOTO MOUNT: Featuring a database of more than 40,000 celestial objects, the GoTo mount built into our telescopes for astronomy beginners automatically locates and tracks objects for you
Product 1: EASY TO ASSEMBLE AND BREAK DOWN: The single fork arm design and sturdy steel tripod all assemble and break down from separate components for easy transportation. SkyAlign technology gets your telescope aligned and ready in minutes
Product 2: Works with a wide range of cell phone models, including the latest devices from Samsung, Google, and Apple
Product 2: Unlike other adapters, the NexyZ device has three directional buttons (X, Y, and Z axes) that allow your phone's camera to be perfectly aligned with the eyepiece in seconds, allowing you to take a perfect photo; in addition, you can adjust the voltage to keep the phone firmly in place.
Product 2: NexyZ withstands rigorous use in the field thanks to its sturdy and durable construction, featuring a metal frame and a polymer body.
Product 2: NexyZ fits all eyepieces from 35 to 60 millimeters in diameter, including telescopes with 1.25" and 2" eyepieces. Locular clamping range: 35 mm – 60 mm (1.37" – 2.36") [Note: minimum size of 25 mm (0.98") with supplied adapters
Celestron 11068 NexStar 6SE Computerised Schmidt-Cassegrain Telescope with Advanced GPS, Astroimaging and AutoAlign Features, Black/Orange
Celestron's signature orange-tube telescope combines advanced features and excellent optics in one easy-to-use system, the NexStar 6SE. It's the perfect choice for your first serious telescope, offering striking views at an economical price. Our Founder's Vision, Reimagined for the 21st Century In the 1970s, Celestron's Schmidt-Cassegrain telescopes brought the hobby of astronomy to the masses and established Celestron as the world's premier telescope maker. Our founder, Tom Johnson, invented Celestron's proprietary method of producing Schmidt corrector plates for superior views and maximum portability. Johnson believed in creating high-quality optical instruments at an affordable price, and inspired a generation of amateur astronomers. Four decades later, we've improved upon this design by adding cutting-edge features, while staying true to our founder's intent. View the Universe's Most Impressive Celestial Objects The 6SE's six-inch primary mirror packs enough light-gathering ability to observe the best that the solar system has to offer: Cassini's Division in Saturn's rings, the cloud bands on Jupiter, and geographic features on the surface of the Moon. When it comes to deep sky objects, take your 6SE to a dark-sky site and you'll see hundreds of pinpoint stars in the Hercules Globular Cluster, the spiral arms of the Whirlpool Galaxy, and more. Revolutionary Single Fork Arm Mount We know the best telescope is the one you will use most often. That's why Celestron's engineers created NexStar SE's unique, patented single fork arm mount. It's perfectly portable and makes setup quick and easy. What's more, the NexStar SE breaks down into several lightweight and compact pieces, making it easy to transport, even in small vehicles. You'll have no problem getting the NexStar SE to your favorite observing site, or setting it up quickly in your garden. Of course, it's what's inside the mount that really counts. Sturdy construction from high-quality components give NexStar SE the pointing and tracking accuracy needed to observe and follow your favorite targets with push-button ease. Use the included NexStar+ hand control to locate over 40,000 celestial objects, or take a Sky Tour and let your telescope show you the best objects currently visible. Aligning your telescope is simple and painless, too, thanks to SkyAlign. This process makes alignment as easy as 1-2-3: just centre three bright objects in your eyepiece and press ALIGN. For even easier alignment, attach our StarSense AutoAlign and your NexStar SE aligns itself! Advanced Features Let the NexStar SE Grow with You The NexStar SE is compatible with all the high-tech accessories advanced users love. Provide GPS coordinates to your telescope with SkySync, or add automatic alignment functionality with StarSense AutoAlign. For planetary imaging, pair your NexStar 6SE with one of our Skyris cameras. Or, experiment with wide-field deep sky astroimaging by replacing the telescope's secondary mirror with a DSLR or astronomical CCD camera with a Fastar/HyperStar lens assembly. From your first observing session and for years to come, the NexStar SE is your trusted companion.

Celestron 81055 NexYZ 3-Axis Universal Smartphone Adapter, Patented Design – Works with Telescopes, Spotting Scopes, Binoculars, Monoculars and Microscopes, Black
NexYZ fits any eyepiece from 35 mm to 60 mm in diameter including telescopes with 1.25" and 2" eyepieces, spotting scopes, monoculars, and binoculars. NexYZ will also attach to microscopes with the addition of the included adapter ring, which takes the usable diameter down to 25 mm, the size of a standard microscope eyepiece. A strong spring and a threaded twist lock provide a two-level strong and secure grip on the optical instrument's eyepiece so you can image with confidence.
NexYZ also accommodates a huge range of smartphones. The phone platform is fully adjustable and can fit any device—usually with the case still on. Even larger "phablets" like the iPhone 8 Plus and latest Samsung Galaxy devices work perfectly. The secure platform stands up to the weight of these heavier devices with ease.
If multiple people want to capture a shot through your optic, NexYZ's simple spring-loaded clamps make it easy to remove one device and replace it with another in seconds. NexYZ is the ideal solution for star parties and group bird walks where everyone wants their own shot of the action.