English Electric Gravity Drain Spin Dryer 28009EEWP 5.2kg, Energy Efficiency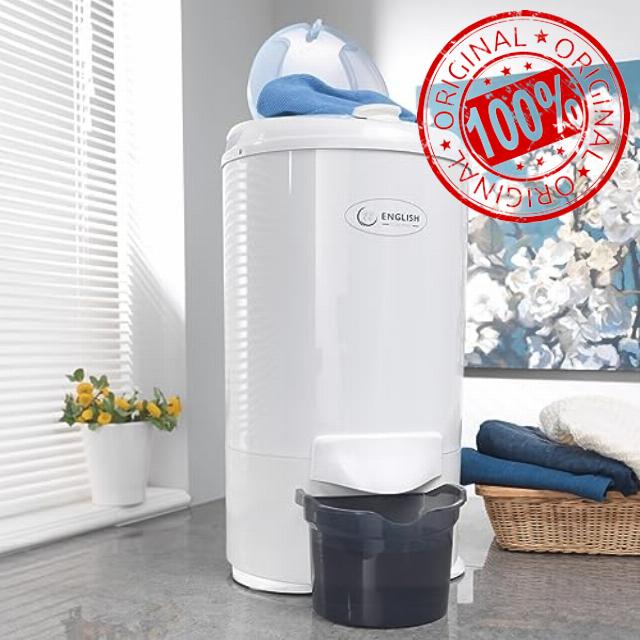 English Electric Gravity Drain Spin Dryer 28009EEWP 5.2kg, Energy Efficiency Class: A+++, 30 watts per cycle [Energy Class A+++]
【Large Capacity 5.2kg Capacity】. Dimensions Height 62cm, Width 35cm, Depth 42cm
⚡【Super Fast 2800RPM Spin Speed】The English Electric spin dryer brings SUPER efficiency, safety and economy to your washing. They are easy to move and small enough to operate in a restricted space. The 28009EEWP spin dryer removes excess moisture from your washing load in a speedy and efficient manner, leaving it with less residual water to then dry on a line or in a tumble dryer, thus saving you on your energy bills.
【Safety for peace of mind】Easy lockable Lid with full safety interlock and safety break on the drum before when you unlock the drum lid .
【🇬🇧UK Guarantee ✓ 2 Years Manufacturers Parts and Labour Guarantee supplied on the 28009EEWP giving you peace of mind from a Yorkshire British company amd warranty provider.
【 Includes a Spin Dryer Guard】to place over clothes to protect your garments. 【Includes drainage bowl】 that fits perfectly under the water spout which is easily stored away when not in use inside the machine. 【Stabilising rubber suction feet】
›
English Electric Gravity Drain Spin Dryer 28009EEWP 5.2kg
Product dimensions- Height 62cm, Width 35cm, Depth 42cmMounting type-Floor Mount
Item weight-10 Kilograms
Special features
Portable, Slip Resistant, Space Saving
Standard Capacity Cycle – 5.2 Kilograms
Power Cable Length – 2 Meter (200cm) UK power cable.
Design with Precision
Standing at 62cm tall, it's designed with you in mind. The 35cm width fits comfortably anywhere, while the 42cm depth offers endless possibilities. This finely designed dryer is an extraordinary addition to your surroundings. Designed for your convenience, these units are easily portable and compact enough to function even in limited spaces.
Innovation with Efficiency
Experience the highpoint of efficiency, safety, and cost-effectiveness with the English Electric spin dryer. The innovative 28009EEWP spin dryer rapidly and effectively eliminates excess moisture from your laundry, resulting in reduced residual water that can be efficiently dried on a line or using a tumble dryer. Embrace this solution to significantly lower your energy expenses and enhance your laundering process.
The energy-efficient spin dryer allows you to complete 33 cycles before consuming 1 kWh of energy. In contrast, the average tumble dryer consumes around 4.5 kWh per cycle. With a noise level of 67dB, it operates more quietly than the average washing machine during its full spin cycle.
Advancement with Safety
The spin dryer boasts a user-friendly lockable lid, complete with a comprehensive safety interlock system. Notably, a safety brake engages on the drum before the lid is unlocked, ensuring utmost security during operation. It features a drum made of stainless steel, rubber suction feet for stability, and a top rim crafted from shock-resistant plastic.
| | |
| --- | --- |
| SKU: | B0CFSZ5GM1 |
| Weight: | 10 kg |
| Dimensions: | 62 x 35 x 42 cm; 10 Kilograms |
| Brand: | English Electric |
| Part: | 28009EEWP |