EvikOo 4 Shares Braided Cot Bumper Cushion Soft Knot Pillow Cot, Braided Pillows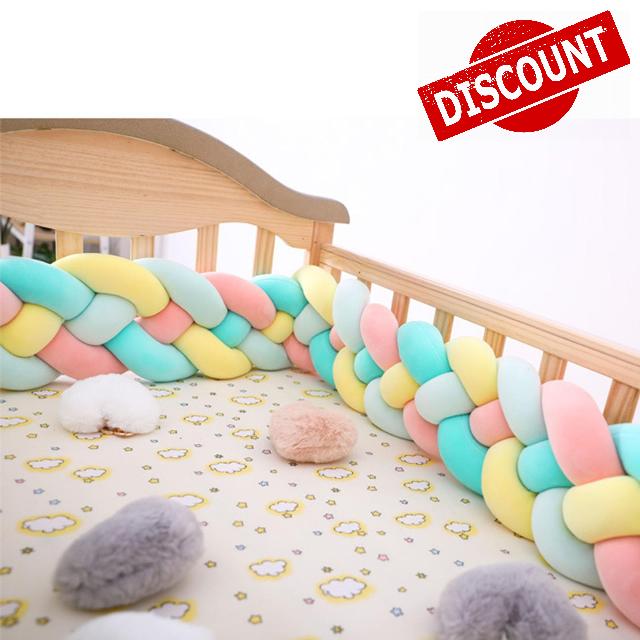 EvikOo 4 Shares Braided Cot Bumper Cushion Soft Knot Pillow Cot, Braided Pillows Knotted Cot Bumper, Head Guard Bumper Crib Cradle Knot Braid Pillows Cushion Deco
1. Multiple Colour: Bright colors will also play a role in visual stimulation, which can better exercise children's recognition ability; soft fabrics, children can practice grasping ability when touching, making small hands more flexible.
2. Protect Babies: Bed bumper ideal for supporting the waist, legs or hands. Place it on the side of the bed to avoid your head, elbows and others from hitting the hard bed frame. One of the side sleeping pillows for pregnant women and side sleepers.
3. Woven Crib Bumpers: Each cushion soft knot pillow baby bed is designed and hand made. the out layer is covered with super soft plush. touching soft and totally skin friendly. It can quickly happen that the child lifts his head or jams his arms on the sides of the bed while he is sleeping.
4. Knot Shaped Pillow: The pillow can be shaped into any shape you want, so it can be a cushion, a pillow or fill the space between the bed and the wall. Functional and decorative, this beautifully designed knot cushion can be used as a sofa cushion.
5. Asy to Clean: Our snake bed is easy to clean and can be washed at 30°. But machine washing always has an effect on the material. It would be best to put it in the laundry net. Extends shelf life and makes washing easier.
Features:
– Breathable, skin-friendly and non-static cotton fabric, durable and washable.
– All woven baby quarters are handmade and can be touched directly on baby's skin.
– Promotes maximum air circulation and reduces the risk of suffocation, safe and comfortable for baby.
– It can be freely combined to match your bed and is easy to assemble – just tie the ribbons to the mesh fence.
– It can also be used as a back pillow, side sleeping pillow or even bedding, perfect gift for kids and mum.

Advantage:
– Head protection
– Light, handy, easy to store
– Protection against drafts and environmental stimuli
– Safety – the cocoon simulates mother's closeness and warmth
– The sides prevent the child from accidentally lying down or the child from falling

Specification:
Name: Soft Knot Pillow / Braided Cot Bumper / Baby Bed Braided Bumpers / Edge and Head Protector / Cradle Protector
Material: PP Cotton + Flannel
Shape: 4 Strand Braid
Height: 16cm
Size: 2m, 3m, 4m
Process: Hand Woven

Scope of delivery:
1 * Crib Bumper Knot

Note:
– Due to the display and the light, there may be chromatic aberration.
– Since all dimensions are measured by hand, there may be an error of 1-3 cm.
– Washing Instructions: Wash in warm water or machine wash on gentle cycle. Do not bleach and tumble dry.
| | |
| --- | --- |
| SKU: | B0CCLB8KGJ |
| Brand: | EvikOo |
| Model: | EvikOo-ABB888 |
| Colour: | A |