iONZ PC Gaming White Case Mid Tower ATX, E-ATX – KZ-V Light Aether Series iONZ PC Gaming White Case Mid Tower ATX, E-ATX – KZ-V Light Aether Series Tempered Glass 0.8MM SPCC – Maximum Access to Components – Includes 2 x 140mm and 1 x 120mm ARGB Fans – 10 Port Fan Controlle
ALL ACCESS: With 2 Hinged side Panels and 2 Lower Access Panels. Also includes removal bottom panel dust fillters. The Aether Series offers Maximum access for upgrades
EATX: Supporting Larger Motherboards as Standard upto 270 mm x 360 mm with GPU bracket installed and upto 390 mm x 360 mm without. Tool-less pop out removable HDD trays
STUNNING: Effortlessly Stylish, Fits in Any situation, from the Office to the Games Room, the 3 ARGB Fan option has 2 x front 140 mm fans which also include a fan controller.
SPEC: Supports EATX/ATX/Micro ATX and ITX Motherboards. USB 2 and 3 Ports and HD Audio and can fit 3.5"HDD x2 and up to 4 x SSD
SIZE: 465 mm (L) x 225 mm (W) x 490 mm (H). Plenty of space and can support upto a 400mm GPU (if no watercooling is fitted)
ATX : Can Fit an ATX PSU upto 220mm Long and upto a 420mm Radiator on the Front. Uber Solid 0.8MM SPCC Thick Chassis
COOLING: A glass front is visually stunning, however for optimum cooling and maximum performance we recommend using a top mounted water cooler.
| | |
| --- | --- |
| SKU: | B0BZ8T8VL3 |
| Size: | 465 mm (L) x 225 mm (W) x 490 mm (H). Plenty of space and can support upto a 400mm GPU (if no watercooling is fitted) |
| Size: | 465 mm (L) x 225 mm (W) x 490 mm (H). Plenty of space and can support upto a 400mm GPU (if no watercooling is fitted) |
---
Product Description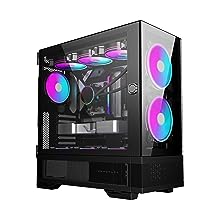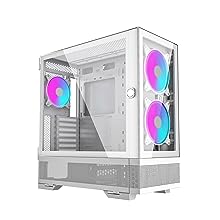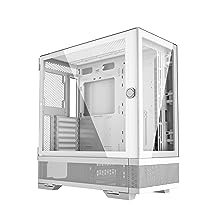 Dark Aether with 3 Fans
Supplied with 3 Fans, 2 x 140 mm Front and 1 x 120 mm Rear
Dark Aether Case Only
Case only, Can Fit 2 x 140 mm or 3 x 120 mm front and 1 x 120 mm Rear
Light Aether with 3 Fans
Supplied with 3 Fans, 2 x 140 mm Front and 1 x 120 mm Rear
Light Aether Case Only
Case only, Can Fit 2 x 140 mm or 3 x 120 mm front and 1 x 120 mm Rear
Specifications
| | |
| --- | --- |
| Motherboard Support | E-ATX/ ATX/ Micro ATX/ ITX EATX specification 270 mm(L) x 360 mm(H) with VGA Bracket, 390 mm(L) x 360 mm(H)Without |
| PSU Position | Bottom & ATX (max length 220mm) |
| Fan Support | 3 x 120/140 mm Front 3 x 120/140 mm Top 1 x 120 mm Rear |
| Radiator Support | Front 360/420 mm, Top 360 mm, Rear 120/140 mm |
| Drive Support | 3.5″ x2 Tool less, 2.5″ SSD x4 |
| Max CPU Cooler Height | 170 mm |
| Product Dimensions | 465 mm (L) x 225 mm (W) x 490 mm (H) |
| Accessories | Rubber Cable Grommets, GPU, Bracket, Hinged Side Panels, RHS Cabling Cover Panel, ARGB Fan Controller (AURA SYNC compatible) |
| I/O | 1 x USB 3.0 2 x USB 2.0, HD AUDIO,LED/RESET/POWER switches |
| MAX GPU | 400 mm, with front mounted Watercooler 340 mm |
| Dust Filters | Top / Bottom |