Optiplex Intel i7-2600 Quad Core 16GB RAM 1TB NVME SSD WiFi Windows 10 Desktop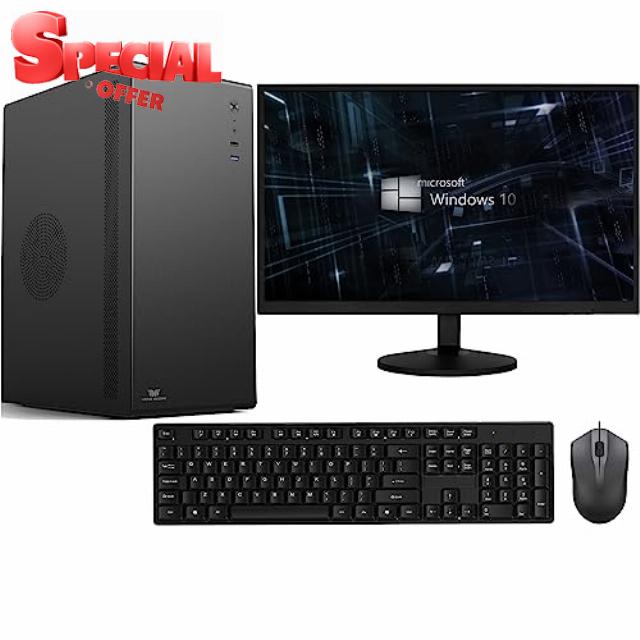 Optiplex Intel i7-2600 Quad Core 16GB RAM 1TB NVME SSD WiFi Windows 10 Desktop PC 27-inch VenoScorp V100 Computer Bundle
PC Specs: Equipped with a Intel Core i7 2600 processor (renewed), 16GB DDR3 RAM, and a blazingly quick 1TB NVME SSD, this pc delivers exceptional speed and power for seamless multitasking and efficient data storage. Pre-installed with Windows 10, this computer ensures you have access to the latest and most advanced software features. Experience the enhanced productivity, seamless multitasking, and cutting-edge security protocols offered by Windows 10
Casing: Cutting-Edge Design and Efficient Cooling – Introducing the Brand New V100 Office case by VenoScorp, a sleek and modern solution that combines a visually appealing design with exceptional cooling capabilities. This case is engineered to provide the perfect balance between style and performance, ensuring your components stay cool even during intense workloads.
Bundle – This comprehensive package includes a 27-inch refurbished Grade A monitor, providing you with a convenient display solution for your computing needs. Please note that the brand and model of the monitor may vary based on current stock availability, ensuring you receive a high-quality product. In addition, this system comes with a brand-new keyboard and mouse, allowing you to start using your setup right away without the need for additional peripherals.
Item Condition: This computer comes with brand-new components, ensuring top-notch performance and reliability. The case itself is brand new and sealed, with no marks or signs of wear. From the outside, the system will appear pristine and brand new. Pc will be sent in Original Brand New Packaging. Inside, you will find a Brand New Motherboard, Ram, PSU, and a renewed CPU. The Monitor is Grade A which means the Screen is spotless but the casing may have minor marks due to general wear and tear.
Warranty: Peace of Mind with 1 Year Return to Base Warranty – This full bundle comes with the added assurance of a 1 Year Return to Base Warranty. We stand behind the quality and performance of this bundle, and in the unlikely event of any issues, we offer hassle-free warranty coverage. With the Return to Base Warranty. Our dedicated support team is committed to providing prompt and reliable assistance to ensure your satisfaction.
›
| | |
| --- | --- |
| SKU: | B0CBVK5WNV |
| Brand: | ‎Veno Scorp |
| Colour: | ‎27" Refurb Bundle |
| Manufacture: | ‎Veno Scorp |