GEEOO Ir n M n Helmet Mk5 1:1 Wearable Electronic Helmet English Voice Control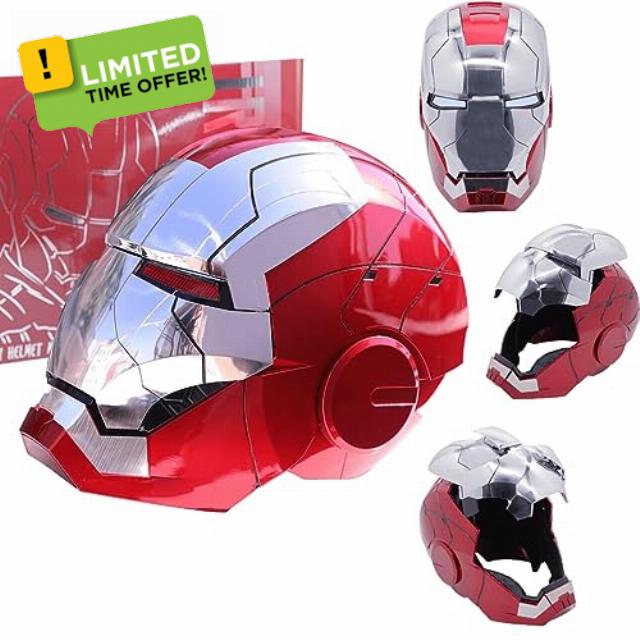 GEEOO Ir n M n Helmet Mk5 1:1 Wearable Electronic Helmet English Voice Control Opening and Closing Ir n M n Mask with Touch Sensor & LED Eyes Light Up for Christmas Hallowee
【Beautifully Handcrafted】:Electronic Ir n M n Mk 5 Helmet uses of professional manual craftsmanship, premium sculpting and engineering resistant ABS raw materials; high-quality lacquer surface treatment, it is durable and does not lose paint; sponge liner, comfortable to wear; the surface effect of the helmet is silver brushed, The shiny silver and red appearance is very eye-catching; perfectly restore the movie characters, let you fight against alien invaders and be a real Ironm n.
【''Hello Jarvis ''】: Ir n M n Mk 5 helmet has 3 kinds of control methods, respectively Voice Control / Remote Control / Touch Sensor, three ways to control MK5 helmet; and have Jarvis voice greeting effect, before operating the system, first run "Jarvis" to activate the system, and then tracking commands can be executed. it can control the whole helmet is opened, or the block is opened.
model
【Two Modes Can Be Switched Freely】:Mk 5 helmet Suitable for head circumference up to 25 inches, you can control the light color of the eyes and the opening and closing of the mask by voice, eye lamp color can be switched between red and white. White light means the standard mode, red light means the battle mode; ''Jarvis'' follows your command and makes you a real superhero.
【Battery Powered Not Included 】Wearable MK5 voice-controlled deformation helmet is powered by 4 AA batteries (Battery not included); the included remote is powered by 1 AAA batteries (Battery not included); and the power supply mode is battery, you need to prepare yourself. the helmet can be opened and closed in multiple pieces / as a whole, follow the command! not only is it a work of art and an impressive addition to any collection.
【Best Gift】Ir n M n Mk 5 helmet is a great gift for children, friends and family. it can be used as a birthday gift, christmas gift, halloween gift and halloween cosplay etc;
---
Product Description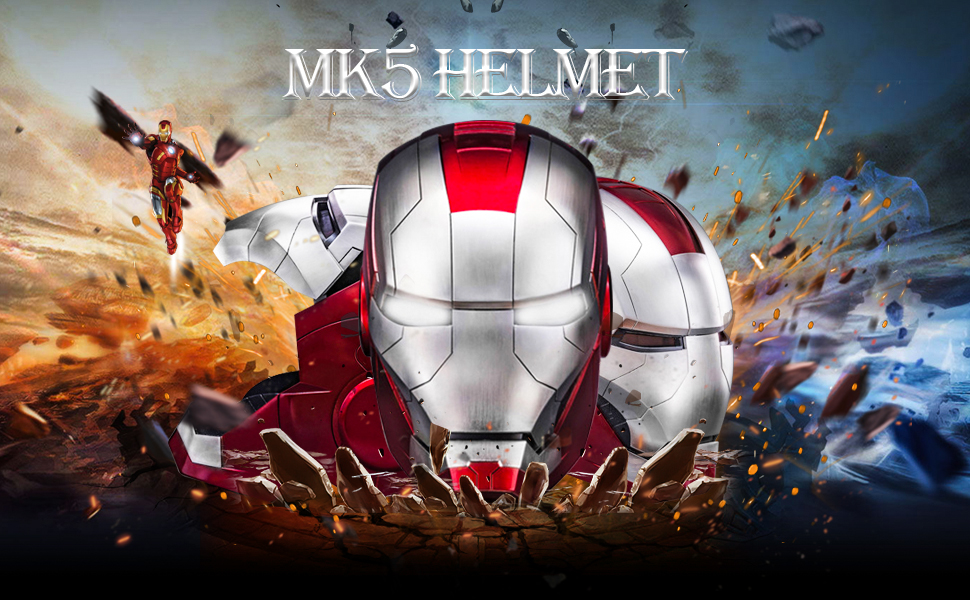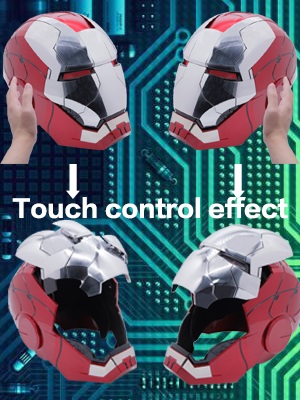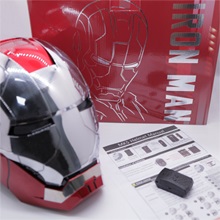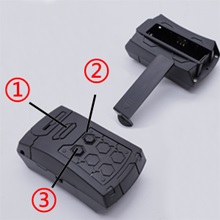 Instructions and precautions for Mk 5 Helmet:
MK5 Helmet Failure Analysis:
1: If failed to match the password, try to match the password again after charging the remote control battery.
2: If The eye light flashes continuously and slowly, resulting in slow action, blurred sound effect and low power Replace the battery with a new one.
3: In case of operation failure and abnormal conditions, restart the system; Wear helmet, automatically detect failure and restart the system.
MK5 Helmet Safe Operation Warning:
1:Precautions for booting: Before booting the helmet each time (or when restarting the system power);
2: It is necessary to ensure that the mask is closed quietly before turning on, such as the presence of part of the mask or fully open, you need to manually close all parts gently to ensure the mask is stable.
3: It is strictly forbidden to remove the mask by manual external force, and it is strictly forbidden to have external force blocking the movement when the helmet is opened and closed, which will cause irreversible damage to the helmet.
4: If the product is not used for a long time, please remove the dry battery.
5: Non professionals are not allowed to disassemble the product by themselves.