Portable Baby Rocker with Bluetooth Music & Remote Control – 0-2 Years Toddler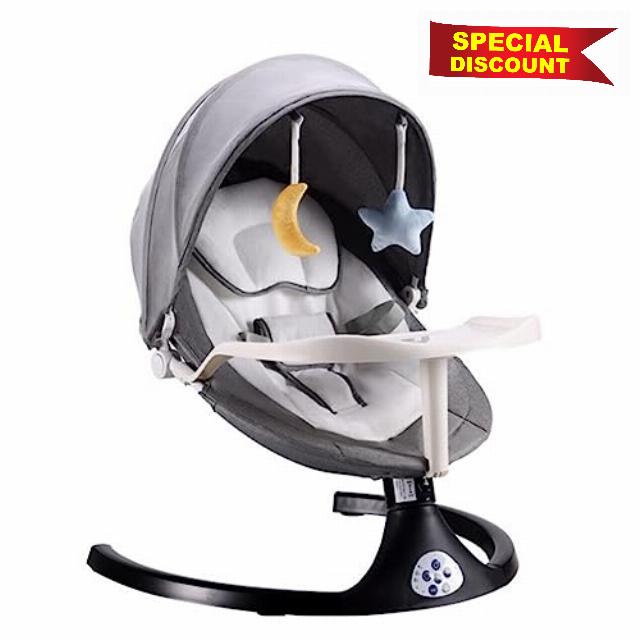 Portable Baby Rocker with Bluetooth Music & Remote Control – 0-2 Years Toddler Swing – 5 Swinging Amplitudes – USB & Timing Function – Ideal for Newborn Infants
1. Intelligent Sensing: Our baby rocking chair features an intelligent dynamic sensing system that allows you to easily stop the rocking mode when your little one falls asleep and automatically enter the rocking mode when they wake up. The back safety curve design simulates a mother's embrace, while the scientifically designed 25° tilt angle effectively supports your baby's spine development.
2. 5 Levels of Swing Range: Our electric baby rocker offers adjustable swing angles of 18°/21°/23°/25°/31° to provide ultimate comfort, just like being in a mother's arms. Choose from 8, 15, or 30 minutes of regular rocking to help your baby fall asleep peacefully.
3. Strong Load-Bearing Capacity: Made from thick aluminum alloy material and skin-friendly fabric, our toddler automatic bouncer ensures extra care for your newborn's muscles and has a strong load-bearing capacity, safely accommodating babies weighing up to 9kg.
4. Bluetooth Function: Our newborn rocking chair features built-in soothing light music and can be connected to Bluetooth or USB for playing baby songs. Settle your baby into a sweet dreamland with relaxing music before bedtime. The addition of a remote control allows convenient operation without having to leave your couch or bed.
5. Easy Assembly: Our baby swing is easy to assemble, disassemble, and carry. Simply snap the crib into the base bracket for quick installation.
›
Color: Grey/Blue/Pink/Yellow – Advance Purchase Required
Net weight: 3.4kg
Power: 5V/1A
Overall size: 50*65*72*50cm/19.68*25.59*28.35*19.68in
Suitable age: 0-2 years old
Weight capacity: 9 kg

Description:
The baby bouncer offers 5 rocking speeds and 3 timer settings for customizable soothing. Equipped with built-in motion detectors, it can detect when your baby wakes up and automatically start swinging. With hanging toys and a variety of music options, it quickly calms your baby. The seat cushion features a removable headrest that can be easily cleaned in the washing machine.

Featuring 15 minutes/30 minutes/60 minutes timing function, the baby bouncer is easy to operate. It comes with a control panel and a remote control for convenient use. The seat belt ensures your baby's safety and security.

This baby swing provides three power supply methods. You can use a USB power supply with a charging treasure when you go out to play. It is also compatible with daily household sockets, making it perfect for use in bedrooms and living rooms. Additionally, it can be powered by a mobile power supply, giving you the freedom to use it anytime, anywhere.

Basic Package Includes:
– Baby swing
– Remote control
– Pillow

Package with Mosquito Net Includes:
– Baby swing
– Remote control
– Mosquito net
– Doll
– Pillow
| | |
| --- | --- |
| SKU: | B0CJ2BWB7Z |
| Reference: | A-1 |