WSIKGHU 16 Inch Children's Bicycle with Stabilisers Boys Girls Outdoor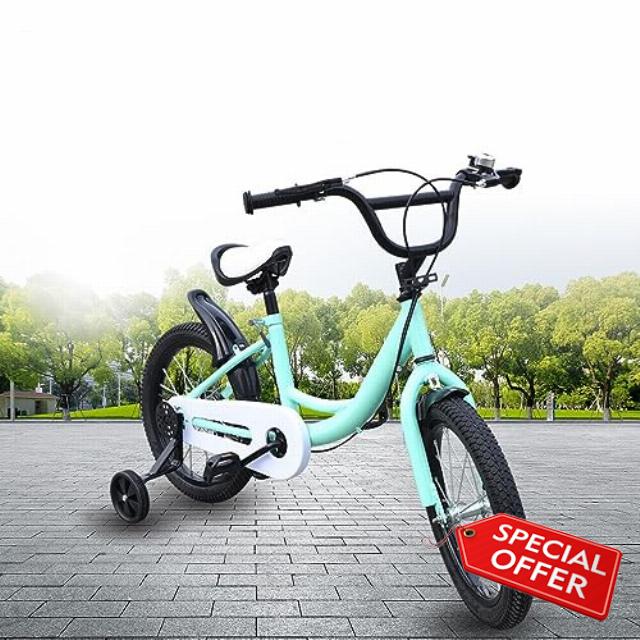 WSIKGHU 16 Inch Children's Bicycle with Stabilisers Boys Girls Outdoor Sporty Children's Bikes Children's Bicycle Bicycle for Children from 5-8 Years
🚵【Suitability】 The seat can be increased from 58 cm (22.83 inches) to 69 cm (27.16 inches). This 16 inch bike is suitable for children with a height between 105 cm and 135 cm (usually 5-8 years old).
🚵【With Stabilisers】 The 16 inch children's bike comes with two stabilisers to maintain balance when riding and prevent tipping over. If your child learns to ride on a two-wheeled bike, you can remove the stabilisers and let your child ride.
🚵【Safety and Reliability】 This carbon steel bike has a combined front and rear brake, which is very reliable, and a chain cover that prevents the chain from coming into contact with your child's foot.
🚵【Mudguard Design】 The front and rear wheels of the children's bike are equipped with mudguards near the seat, which effectively block mud and gravel splashes and prevent them from getting dirty while driving, suitable for road and off-road riding.
🚵【About Assembly】 To avoid damage in transport, we will disassemble and ship the bike. After receiving the goods, you need to assemble the bike yourself, you can refer to the instructions to complete the installation, if you have any questions, please contact us, we will provide you with an installation video!
16 inch children's bicycle with auxiliary wheel boys and girls 5, 6, 7, 8 years bike
Product features:
✔ COMFORTABLE PADDING – The PU leather surface and foam padded seat cushion can balance the forces during riding, suitable for long time riding.
✔ THOUGHTFUL HANDLE DESIGN The bike is equipped with a handle on the back of the seat. If your child wants to get off the bike to learn to ride, your family can hold the bike in the back so that your child does not fall.
✔ APPLICATION – The 16 inch bike with stabilisers is designed for children aged 5-8 years who are learning to ride a bike. As a child's first bike, it is a gift that can accompany the child's growth.
Product specifications:
Basic colours: yellow/pink/green.
Frame Material: Carbon Steel Alloy
Cushion material: PU leather
Tyre material: rubber.
Chain link material: plastic.
Net weight: 9 kg/19.8 lbs.
Wheel diameter: 40.6 cm/16 inches.
Body length: 115 cm/45.3 inches.
Seat adjustment range: 58-69 cm/22.83-27.16 inches.
Handlebar adjustment range: 78-84 cm/30.7-33.1 inches.
Package includes:
1 x children's bicycle with stabilisers.
1 x English user manual.
Accessories for installation
| | |
| --- | --- |
| SKU: | B0CCML5P14 |
| Weight: | 9 Kilograms |
| Brand: | WSIKGHU |
| Colour: | Green |
| Manufacture: | WSIKGHU |
| Age: | Kid |