Cot Bed Sheets 140 x 70 Fitted – 100% Cotton – 2pc Set of Fitted Cotton Cot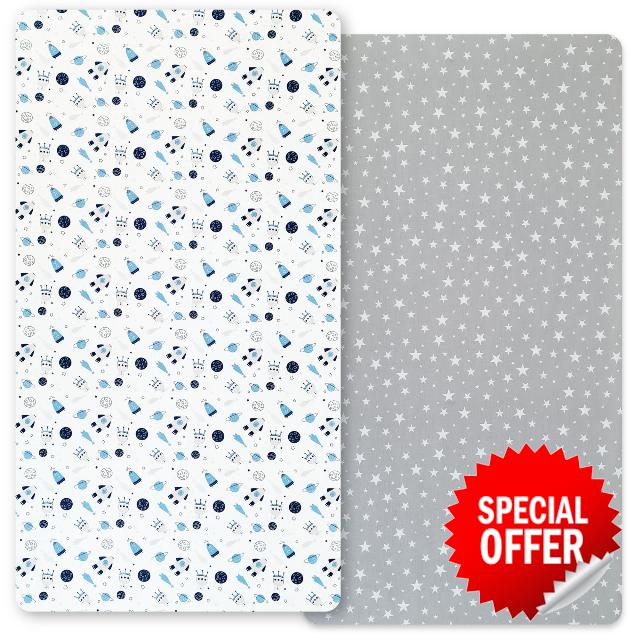 Cot Bed Sheets 140 x 70 Fitted – 100% Cotton – 2pc Set of Fitted Cotton Cot Bed Sheets – 140 x 70cm – Made in Europe (140x70cm, Planets&Stars)
✔️ COT BED SHEETS SET – Elevate your baby's sleep experience with our Organic Cotton Cot Bed Sheets Set. Crafted from premium cotton, these sheets offer a gentle, soothing feel against your baby's sensitive skin. The fitted sheets set includes everything required for a snug and restful sleep, making it a perfect fit for various cot beds.
✔️ 100% COTTON FITTED COT BED SHEETS – Give your baby the royal treatment with our 100% Cotton Cot Bed Sheets. This set includes two fitted sheets meticulously crafted from 160GSM cotton, renowned for its breathability and gentle touch on your baby's skin. These sheets snugly envelop your baby's mattress, ensuring a secure and comfortable sleeping space that mothers can't get enough of. With their hypoallergenic and user-friendly design, our sheets are an essential accessory for every cot bed.
✔️ COMPATIBLE WITH MULTIPLE COT BEDS – Eliminate the stress of finding the right cot bed sheets with our baby cot bed sheets set. It's designed to be compatible with multiple cot beds, including popular brands like TuttiBambiniCotBeds: Alba, Caterina, Tivoli, Como, Verona, Rio, Siena, Lucas Sleigh, Malmo, Modena, IkeaCotBeds: MYLLRA, SMÅGÖRA, GONATT, SUNDVIK, Mamas&PapasCotBeds : Atlas, Beckley, Dover, Mia, Oxford, Franklin, Coxley, Flyn, Harwell, Melfi, Austwick, Wedmore, Hampden, Gaia and more. Our sheets provide a snug fit for any mattresses up to 140 x 70cm, ensuring your baby enjoys a comfortable and peaceful sleep.
✔️ PREMIUM QUALITY FABRIC : Our fitted cot bed sheets are meticulously crafted from premium materials that proudly bear the OEKO-TEX certification, assuring their freedom from harmful substances. Crafted in Europe, our sheets adhere to the stringent British requirements and CE standards for childcare, guaranteeing the utmost safety and comfort for your precious one.
✔️ 100% SATISFACTION GUARANTEE – Your baby deserves the very best. At Selemavi, our mission is to offer high-quality products that encompass safety, comfort, and style. Our belief in our products is so strong that we offer a 100% satisfaction guarantee. If you're not completely satisfied with your purchase, please let us know, and we will make it right. Shop with Selemavi today and experience the peace of mind that comes from making the best choice for your baby.
Discover the Selemavi Cotton Baby Cot Bed Sheets Set in the enchanting Planets&Stars design, the ultimate choice for your baby's comfort and safety. We are only employing OEKO-TEX-certified materials that are completely free from harmful substances. Manufactured in Europe, these cot bed sheets set strictly adheres to all the stringent requirements and CE standards for childcare. Recognizing the challenges of parenthood and the hectic pace of life, we've designed our baby cot bed sheets to be exceptionally easy to care for. Simply toss them into the washing machine at 40 degrees and either air dry or tumble dry on a low heat setting. Our fitted cot bed sheets are meticulously crafted from premium quality organic cotton, ensuring your baby enjoys a snug and comfortable night's sleep. Choose from a delightful range of colours suitable for both boys and girls, as well as neutral tones. With every purchase, you'll receive 2x Cotton Fitted Cot Bed Sheets, each measuring 140 x 70 cm, so you're always prepared for laundry days. Our dedication is unwavering when it comes to providing the highest quality products for your little one. Therefore, we offer the Selemavi Cotton Baby Cot Bed Sheets Set with confidence, fully aware it will meet and exceed your expectations. In the unlikely event that you're not completely satisfied with your purchase, we back it up with a 30-day money-back guarantee.
| | |
| --- | --- |
| SKU: | B0CKTRMVXD |
| Weight: | 490 g |
| Dimensions: | 140 x 70 x 0.01 cm; 490 Grams |
| Brand: | Selemavi |
| Model: | 2 |
| Colour: | Multicolor |