Pssopp Portable Monitor, FHD 1080P 14in Adjustable Stand HDR IPS Dual Screens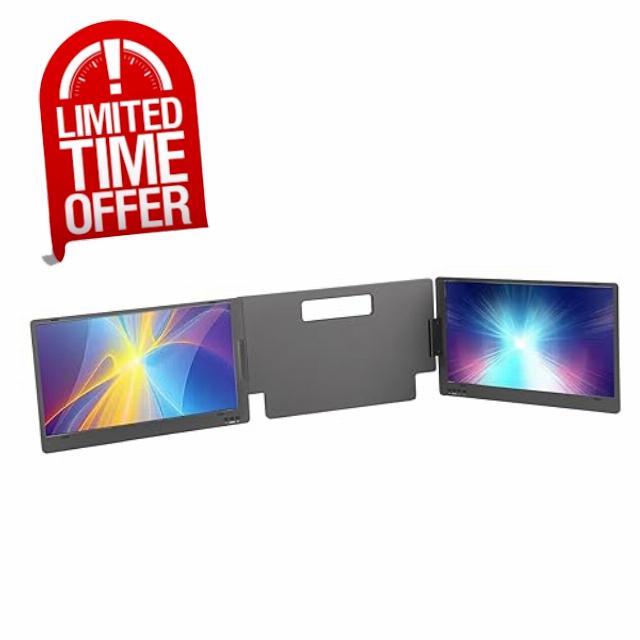 Pssopp Portable Monitor, FHD 1080P 14in Adjustable Stand HDR IPS Dual Screens Extender 100-240V Silver Gray for Within 15.6inch Laptops (#1)
COMPATIBLE DEVICES: Laptop monitor extender supports laptops and smart devices up to 15.6 inches, compatible with laptops, individual computers, cell phones, for PS3/4, for XBOX ONE and more.
178° VIEWING ANGLE: Triple portable monitor offers 178°viewing angle, providing users with a wider field of view and better visual experience, foldable and portable.
MULTITASKING: The screen extender provides laptop users with a multiple screen synchronized display or independent display solution for effective multitasking.
ADJUSTABLE STAND: The portable monitor is designed with an adjustable stand on the back of frame, you can adjust the length to a comfortable viewing angle and maintain stability without falling off.
1920x1080P RESOLUTION: The Laptop dual screen features a 14 inch LCD IPS screen with a resolution of 1920x1080P and a 16:9 aspect ratio.
›
1. 1920x1080P RESOLUTION: The Laptop dual screen features a 14 inch LCD IPS screen with a resolution of 1920x1080P and a 16:9 aspect ratio.
2. MULTITASKING: The screen extender provides laptop users with a multiple screen synchronized display or independent display solution for effective multitasking.
3. COMPATIBLE DEVICES: Laptop monitor extender supports laptops and smart devices up to 15.6 inches, compatible with laptops, individual computers, cell phones, for PS3/4, for XBOX ONE and more.
4. 178° VIEWING ANGLE: Triple portable monitor offers 178°viewing angle, providing users with a wider field of view and better visual experience, foldable and portable.
5. ADJUSTABLE STAND: The portable monitor is designed with an adjustable stand on the back of frame, you can adjust the length to a comfortable viewing angle and maintain stability without falling off.

Spec:
Item Type: 14in Triple Portable Monitor
Material: Aluminum Alloy, LCD
Color: Silver Gray
Screen Size: 14inchx2 IPS Full View
Display Resolution: 1920x1080P
Aspect Ratio: 16:9
Display Color: 262K
Color Temperature: 6500K
Refreshing Rate: 60Hz
Brightness: 280 ±20cd/m²
Construct Ratio: 1000:1
Support: HDR
Transmission Interface: Type C
Power Supply Interface: Type C
Voltage: 100-240V

How to Use:
Install to use

Package List:
1 x Dual Screen Extender
1 x Type C Connection Cable
1 x Power Adapter
1 x Power Cord
1 x User Manual

or1 x X90A Dual Screen Extender
1 x Driver
1 x Type C Connection Cable
1 x Power Adapter
1 x Power Cord

1 x User Manual

Note:
The use of expanding the screen need to have a computer USB A (need to have a video output function can be) interface and full‑featured Type C interface, to ensure that the computer has sufficient power, if a single side of the display does not light up the need to look at the computer screen settings in the expansion of the
| | |
| --- | --- |
| SKU: | B0CJC4FDDJ |
| Dimensions: | 40 x 30 x 11 cm |
| Brand: | Pssopp |
| Model: | Pssoppg916ywpk2m-13 |
| Manufacture: | Pssopp |