Bosch S5005 – car battery – 63A/h – 610A – lead-acid technology – for vehicles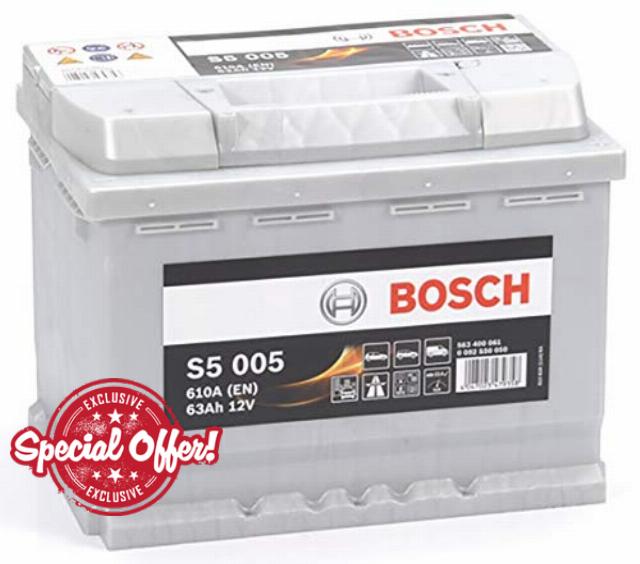 Bosch S5005 – car battery – 63A/h – 610A – lead-acid technology – for vehicles without Start/Stop system – Type 027
Performance: 63A/h – 610A – 12V / Dimensions: 242 x 175 x 190 mm / Polarity: left – right + / Type 027
Excellent starting power: optimized current flow of patented PowerFrame grid
Improved service life: low corrosion of patented PowerFrame grid
Improved starting power and reliable energy supply: higher performance than equivalent S4 battery of the same size
Absolutely maintenance-free battery: reduced water consumption due to double lid with labyrinth design which returns condensed water to the battery
High safety: double backfire protection and integrated central degassing
Adapted to recent and premium vehicles without Start & Stop system
Please use the vehicle identification to confirm compatibility with your vehicle. All restrictions must be observed.
›
From the manufacturer
Invented for life
Bosch offers one of the world's largest ranges of spare parts for vehicle repair. The focus thereby is on high quality and a long product life. This helps to keep people mobile all over the world.
For more than 130 years, Bosch has pursued the goal of offering intelligent and reliable solutions to make life a little bit easier every day.
Bosch passenger car batteries
Modern cars are equipped with more and more components running on electric energy. They need to be supplied by reliable sources of energy with high performance. Equipped with modern technology and featuring a corrosion-proof design, Bosch batteries provide different types of vehicles with the energy they need – over long periods.
Patented PowerFrame (grid) for optimized current flow and reduced corrosion
Labyrinth lid for high operational safety: evaporated liquid remains inside the battery. This makes SLI-batteries absolutely maintenance-free and leak-proof
Terminal-post covers provide protection against short circuits
Ion-permeable pocket separator prevents contact between positive and negative plate – for longer service life and higher starting power
Set of plates with particularly robust connection
Technology
Lead-acid SLI: Starting-lighting-ignition/starter battery with PowerFrame
Lead-acid SLI: Starting-lighting-ignition/starter battery with PowerFrame
EFB: Enhanced Flooded Battery, PowerFrame
AGM: Absorbend Glass Mat, PowerFrame
Scope of application
All vehicles, also for Asian models
Recent vehicle models and upmarket models with several electrical consumers
Recent vehicle models and upmarket models with start/stop systems and with several electrical consumers
Recent vehicle models and upmarket models with start/stop systems and regenerative braking (recuperation)with several electrical consumers
Service life
outstanding
outstanding
outstanding
outstanding
Cold starting performance
very good
very good
very good
outstanding
Deep-cycle resistance
good
very good
outstanding
outstanding
Maintenance
Absolutely maintenance-free
Absolutely maintenance-free
Absolutely maintenance-free
Absolutely maintenance-free
Installation angle
0°
0°
0°
Up to 90°
| | |
| --- | --- |
| SKU: | B005XVUDLC |
| Weight: | 14.8 kg |
| Dimensions: | 17.5 x 19 x 24.2 cm; 14.78 Kilograms |
| Brand: | Bosch |
| Model: | 563400061 |
| Batteries Included: | 1 Lithium Ion batteries required. (included) |
| Manufacture: | Bosch |
---
From the manufacturer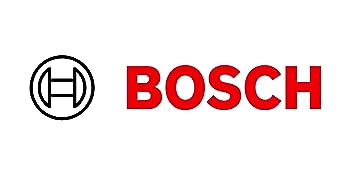 Patented PowerFrame (grid) for optimized current flow and reduced corrosion

Labyrinth lid for high operational safety: evaporated liquid remains inside the battery. This makes SLI-batteries absolutely maintenance-free and leak-proof

Terminal-post covers provide protection against short circuits

Ion-permeable pocket separator prevents contact between positive and negative plate – for longer service life and higher starting power

Set of plates with particularly robust connection
Technology

Lead-acid SLI: Starting-lighting-ignition/starter battery with PowerFrame

Lead-acid SLI: Starting-lighting-ignition/starter battery with PowerFrame

EFB: Enhanced Flooded Battery, PowerFrame

AGM: Absorbend Glass Mat, PowerFrame

Scope of application

All vehicles, also for Asian models

Recent vehicle models and upmarket models with several electrical consumers

Recent vehicle models and upmarket models with start/stop systems and with several electrical consumers

Recent vehicle models and upmarket models with start/stop systems and regenerative braking (recuperation)with several electrical consumers

Service life

outstanding

outstanding

outstanding

outstanding

Cold starting performance

very good

very good

very good

outstanding

Deep-cycle resistance

good

very good

outstanding

outstanding

Maintenance

Absolutely maintenance-free

Absolutely maintenance-free

Absolutely maintenance-free

Absolutely maintenance-free

Installation angle

0°

0°

0°

Up to 90°