Crash Mat, Ultra Large Gym Mats, Landing, Tumbling, Safety Exercise Mat Pad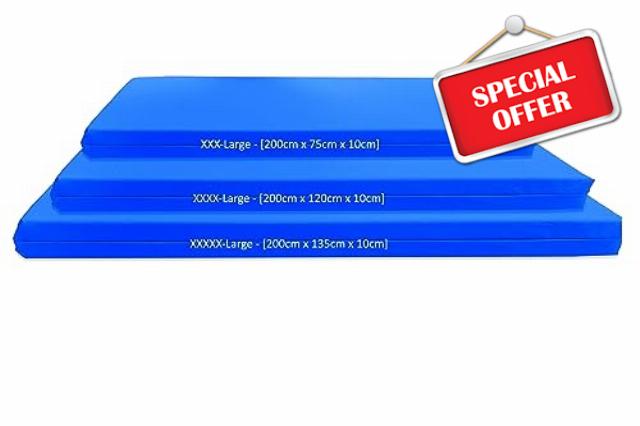 Crash Mat, Ultra Large Gym Mats, Landing, Tumbling, Safety Exercise Mat Pad, Critical Fall Height Tested to 3 Metres BS:EN1177
[GYMNASTICS ULTRA LARGE CRASH MATS] are perfect for any professional or beginner gymnast for home, office or garden use, ideal for inside or outdoors practice. The 10cm Thick crash mats ensures safety for the gymnast and are perfect to use in any situation. The Crash Mats are designed to suit the different requirements of landing areas from Gymnastics, High Jump, Stunts, trapeze to name a few.
[THICK CRASH MATS] with its 5cm Medium Density Foam and 5cm Reconstituted foam within the mat provides for an ultra soft surface ensuring any falls, jumps, landing are cushioned giving extra safety for safe landing. Gymnastics & Sports crash mats are of the highest quality that will last for years. We manufacture all gym crash mats in our warehouse in Greater Manchester, UK with the greatest attention to detail and are amongst the most popular as well.
[CRITICAL FALL HEIGHT] The pads have been tested to British Standard EN1177:2018 for their suitability for a critical fall height of 3 Metres. These Pads are designed to help reduce the impact of a fall by absorbing the shock and minimise the risk of Critical Injuries.
[MATERIAL:] The gymnastics crash mats are made from Medium density 5cm and 5cm Reconstituted foam, covered 235gsm 400 Denier Polyester PU, Water Resistant and easy to wipe down, store and carry. [DIMENSIONS;] XXXL – 200cm x 75cm x 10cm ; XXXXL – 200cm x 120cm x 10cm; XXXXXL – 200cm x 135cm x 10cm.
[USES OF GYM MATS] Our thick gym mats are used widely by gymnastics professionals, would be gymnasts, schools, nurseries, home gyms, office gyms, fitness gyms as well indoors and outdoors. Some of the uses include: Gymnastics landing, Tumbling & fall protection, Aerial performance protection, Under indoor rock climbing walls. Training classes in law enforcement, police academies, fire fighting, and military combat training facilities. For fall protection during aerial training.
Martial arts and other fight takedown training. For physical therapy and rehabilitation, crash and fall protection around exercise equipment or anywhere else where patients may fall and get injured during sessions. Training classes in law enforcement, police academies, fire fighting, and military combat training facilities. Nurseries, Schools, Playgroups to create a safe environment for children. Soundproofing upper floors if used for exercising, training, weightlifting.
[GYMNASTICS ULTRA LARGE CRASH MATS] are perfect for any professional or beginner gymnast for home, office or garden use, ideal for inside or outdoors practice. The 10cm Thick crash mats ensures safety for the gymnast and are perfect to use in any situation. The Crash Mats are designed to suit the different requirements of landing areas from Gymnastics, High Jump, Stunts, trapeze to name a few. [THICK CRASH MATS] with its 5cm Medium Density Foam and 5cm Reconstituted foam within the mat provides for an ultra soft surface ensuring any falls, jumps, landing are cushioned giving extra safety for safe landing. Gymnastics & Sports crash mats are of the highest quality that will last for years. We manufacture all gym crash mats in our warehouse in Greater Manchester, UK with the greatest attention to detail and are amongst the most popular as well. [CRITICAL FALL HEIGHT] The pads have been tested to British Standard EN1177:2018 for their suitability for a critical fall height of 3 Metres. These Pads are designed to help reduce the impact of a fall by absorbing the shock and minimise the risk of Critical Injuries. [MATERIAL:] The gymnastics crash mats are made from Medium density 5cm Foam and 5cm Reconstituted foam, covered 235gsm 400 Denier Polyester PU, Water Resistant and easy to wipe down, store and carry. [USES OF GYM MATS] Our thick gym mats are used widely by gymnastics professionals, would be gymnasts, schools, nurseries, home gyms, office gyms, fitness gyms as well indoors and outdoors. Some of the uses include: Gymnastics landing, Tumbling & fall protection, Aerial performance protection, Under indoor rock climbing walls. Training classes in law enforcement, police academies, fire fighting, and military combat training facilities. For fall protection during aerial training. Martial arts and other fight takedown training. [Black, 3XL]
| | |
| --- | --- |
| SKU: | B0CCN39V6Z |
| Size: | 3XL [200 x 75 x 10] |
| Dimensions: | 200 x 75 x 10 cm; 6 Kilograms |
| Brand: | Kosiproducts |
| Colour: | Black |
| Manufacture: | Kositek Ltd |
| Reference: | CRASHMAT-RECON-BLK-XXXL |
| Size: | 3XL [200 x 75 x 10] |