DOG-E Interactive Robot Dog with Colourful LED Lights, 200+ Sounds & Reactions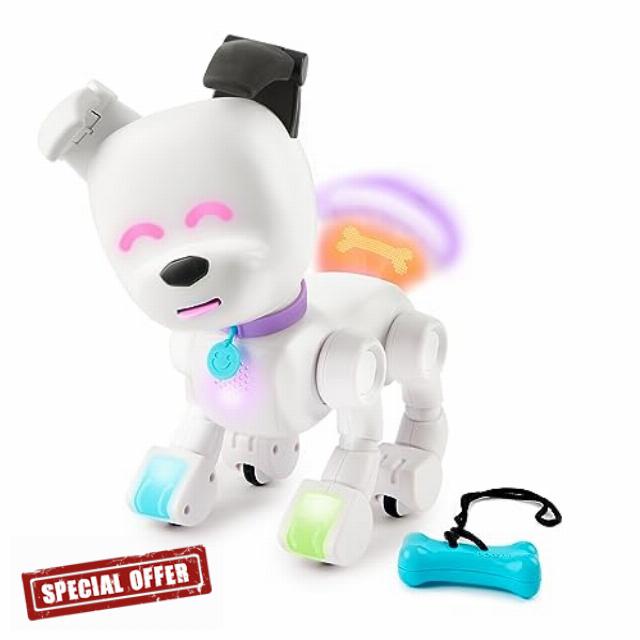 DOG-E Interactive Robot Dog with Colourful LED Lights, 200+ Sounds & Reactions, App Connected (Ages 6+)
ONE-IN-A-MILLION ROBOT DOG, MINTID JUST FOR YOU: Through the minting process, the all-white Dog-E comes to life and reveals a unique combination of colourful lights, sounds and personality traits, so your Dog-E is truly one in a million. No two Dog-Es are ever the same.
200+ SOUNDS AND REACTIONS BRING DOG-E TO LIFE! Dog-E's unique personality influences how it behaves and responds to you. Will your Dog-E be super playful and loving? Or maybe a super hungry Dog-E that loves to lick?
DOG-E TALKS WITH ITS TAIL: Using innovative persistence of vision (POV) technology, Dog-E can communicate with you using its tail. By showing emotes, icons and messages in the lights, Dog-E can tell you when it's hungry, when it wants love or when it wants to play.
CARE FOR DOG-E & PLAY GAMES: Dog-E is totally interactive, ready for you to love and care for it. Dog-E uses its tail and app to tell you what it needs and really shows its love for you. Dog-E also includes interactive games, so you can join in on the fun.
APP CONNECTED: Track Dog-E's needs, feed Dog-E and even throw it a treat with the included app! Train your Dog-E to learn your name, do tricks, and more. Save multiple profiles, so the whole family can have a Dog-E unique to them.
›
| | |
| --- | --- |
| SKU: | B0BWTW7BGR |
| Dimensions: | 30.48 x 25.4 x 30.48 cm; 866.36 Grams |
| Model: | 1691 |
| Material: | Plastic |
| Colour: | White |
| Pack Quantity: | 1 |
| Batteries Required: | Yes |
| Batteries Included: | Yes |
| Age: | 12 months and up |
| Assembly: | No |
| Material: | Plastic |
| Quantity: | 1 |
---
From the manufacturer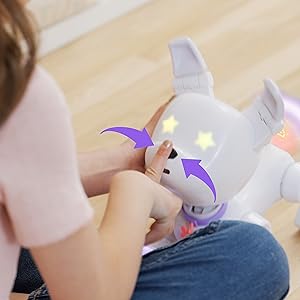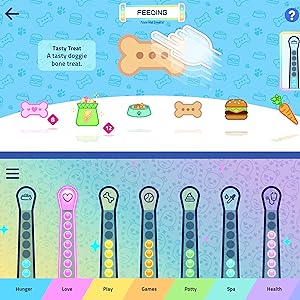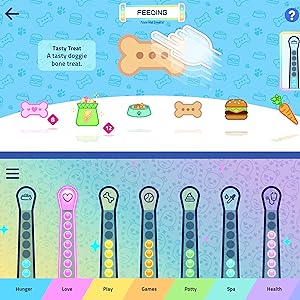 Track Needs
Reward Dog-E with treats!

Toss Dog-E treats using the Dog-E app! Dog-E even lets you know when it likes or dislikes a treat through its tail. Unlock more treats for your Dog-E to try! Special treats are unlocked as you play with Dog-E.

Walk your Dog-E!

Dog-E can sense its included bone toy, and it really runs when you play with it. Walk your Dog-E by pulling it along with the attached string. You can also play tug-of-war with the toy by pulling it in a circle.

Show your Dog-E love!

Dog-E can sense your touch using touch sensors! Care for your Dog-E by petting, feeding, and playing. Watch as your Dog-E shows you its love back!