Jovs Antifreeze Coolant 5L – Long Life Red Engine Coolant Ready to Use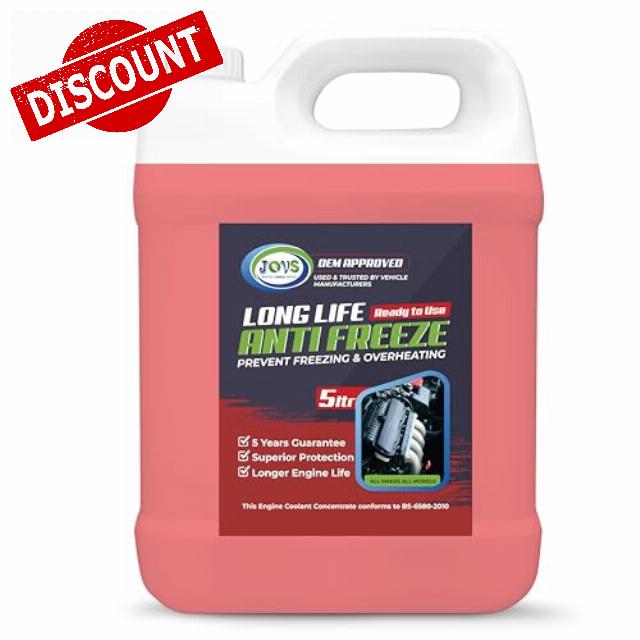 Jovs Antifreeze Coolant 5L – Long Life Red Engine Coolant Ready to Use
Long Life Protection: JOVS Antifreeze Coolant provides 5 years of superior engine protection, ensuring longer engine life.
Freeze and Overheating Protection: This ethylene glycol-based coolant guards against freezing in cold temperatures and prevents overheating during hot weather, keeping your engine in optimal condition year-round.
Silicate-Free with Organic Additive Technology (OAT): Our advanced OAT technology ensures corrosion protection and prevents damage to your vehicle's cooling system.
Ready To Use Formula: No need for dilution. JOVS Antifreeze Coolant is ready to pour directly into your cooling system, making maintenance hassle-free.
Compatibility Guaranteed: Suitable for all makes and models, ensuring wide vehicle compatibility.
›
JOVS Antifreeze Coolant is your trusted solution for year-round engine protection. This ready-to-use coolant ensures your vehicle's engine stays in peak condition. Our advanced formula guards against freezing in winter and overheating in summer, providing peace of mind in all weather conditions. The silicate-free, Organic Additive Technology (OAT) prevents corrosion and damage to your cooling system, enhancing the longevity of your engine. Using JOVS Antifreeze Coolant is a breeze—no dilution required. Simply pour it directly into your cooling system, whether you're topping up or performing a complete flush. For thorough system maintenance, we recommend flushing your system before adding JOVS Antifreeze. We prioritize safety, which is why our product comes with clear usage instructions and safety warnings. Ensure you follow all recommended procedures to protect yourself and your vehicle. JOVS Antifreeze Coolant is trusted by vehicle manufacturers and comes with a 5-year guarantee for superior protection and longer engine life. It conforms to industry standards and is compatible with all makes and models, ensuring broad vehicle compatibility. Upgrade to JOVS Antifreeze Coolant today for long-lasting engine protection and worry-free driving.
| | |
| --- | --- |
| SKU: | B0CJ9SCNR6 |
| Weight: | 5 kg |
| Dimensions: | 28 x 19 x 12.7 cm; 5 Kilograms |
| Brand: | Jovs |
| Manufacture: | Jovs |
| Reference: | RTU- ANTIFREEZE |