Lifemaison 10 The Amazing Digital Circus Plush,Jax Plush Digital Circus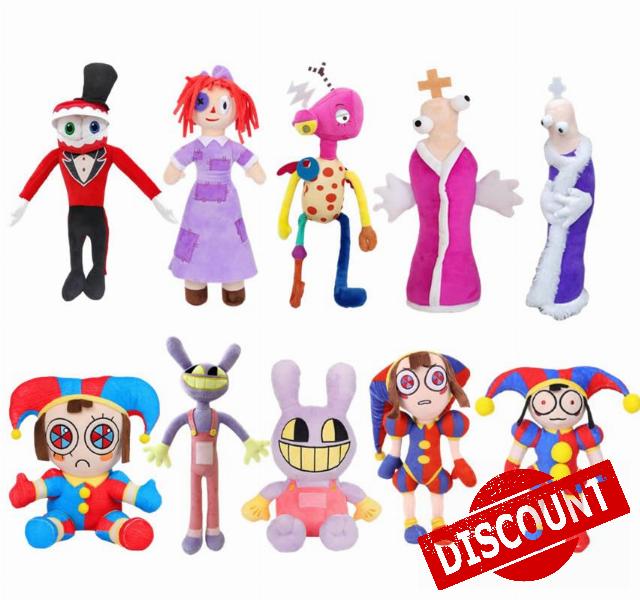 Lifemaison 10 The Amazing Digital Circus Plush,Jax Plush Digital Circus Plush,Digital Circus Series Figure Plush,Clown Pomni and Jax Cartoon Anime Digital Circus toys,Cyber Circus Bunny Plush Doll Toy
High-Quality Materials: Our adorable plush doll is crafted from soft and comfortable plush fabrics, filled with PP cotton for a plush and comfortable feel. It retains its shape, making it durable and long-lasting.
Design Inspiration:The Amazing Digital Circus Plush Toy is made based on the popular Game. It mades minor changes but perfectly restores the style characteristics, which is cute and popular. They are very suitable for bedrooms, living rooms, and offices decor.
Full of Fun:Digital circuss plush toy will be your child's constant companion, full of cuteness, and perfect for them to hold and play with.circuss plush will enrich their playtime, spark their imagination, and bring endless joy to their life.
Easy to Carry:Take lively Digital circuss plush toy with you for endless enjoyment. Lightweight and easy to carry around, it's suitable for all ages and perfect for hugging, squeezing, or tossing. This durable friend will bring lots of laughter.
Versatile Use: This plush toy serves as an ideal companion and can double as a desktop nap pillow or cushion. Whether you need a quick nap, a cozy reading session on the sofa, or some TV time, it's there to enhance your moments of relaxation.
›
Immerse yourself in the world of "The Amazing Digital Circus" with these adorable Pomni and Jax plush toys. Crafted with precision and love, these plushies are a must-have for kids and adults alike.
Made from high-quality plush material, these stuffed toys are incredibly soft, making them perfect for hugging and cuddling. Not only are they huggable, but they are also built to last, ensuring they'll be by your side for hours of fun and entertainment.Plus, their compact size and lightweight design make them easy to take anywhere.
These circus-themed plushies are versatile and can be used as decorations in your living room, bedroom, office, or even your car. They make excellent naptime companions, hug pillows, or simply a source of comfort and joy.
Specification:
Material: Plush
Size:25/30/42cm
Package List:1/3/4/5/6/10* The Amazing Digital Circus Plush toy
| | |
| --- | --- |
| SKU: | B0CMTDX35P |
| Dimensions: | 15 x 13 x 30 cm |
| Material: | plush |
| Colour: | 10pcs |
| Material: | plush |
| Reference: | SYSKUK279278477yun4 |