Mini Washing Machine, 10L Foldable Laundry Tub Portable, Ultrasonic Turbine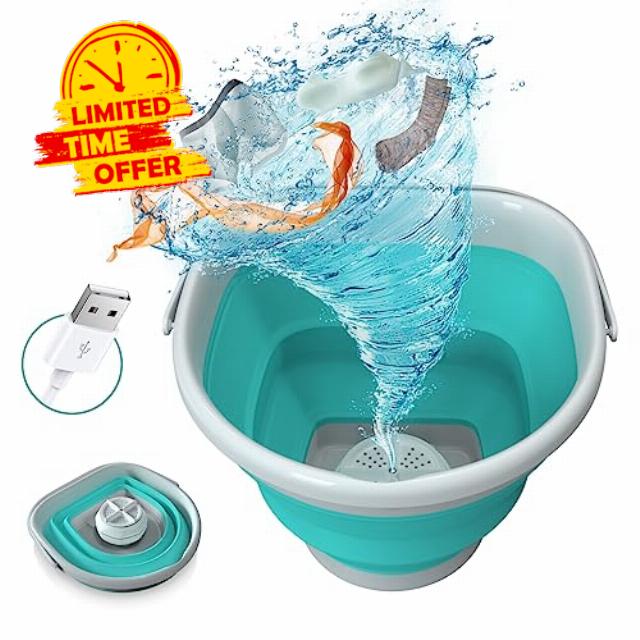 Mini Washing Machine, 10L Foldable Laundry Tub Portable, Ultrasonic Turbine Washer by USB Powered, Compact Baby Clothes Washer for Home Travel Apartments Dorms Socks Underwear Bra [Energy Class A]
【Portable Washing Machine with Foldable Design】Our mini washing machine designed with wall-mounted small body and 10L capacity, the ultrasonic washing bucket can be folded and stored to save space, convenient to carry out and perfect for travel. Compact and efficient.
【USB Power Supply】Our Ultrasonic Turbine Washer upgraded with powerful power supply. The washing machine will be converted into a 2-minute ultrasonic operation after 5-minute pulsator work, which can bear the weight of 1KG of clothing.
【Low Noise & Efficient】Besides the feature of low noise(≤45dB), the clothes washer is switched to reverse working for 20 seconds after the wave wheel rotates forward for 20 seconds, cleaning of stains on clothes more effectively.
【Water and Energy Saving】Mini washing machine have a USB port, and it will automatically shut down after operation 30 minutes. So it will not consume too much water and electricity. Suitable for baby clothes, underwear, socks, towels, T-Shirts, toys.
【Advanced Ultrasonic Cleaning】Different from traditional washing machines, our portable washing machine adopt ultrasonic high-frequency oscillation to wipe out bacteria and remove stains, avoiding the deformation of clothes and fiber damage caused by high-temperature disinfection of traditional washing machines.
›
Upgraded Portable Washing Machine
With features of portable folding lightweight and compact, the cleaning machine is suitable for lightweight close-clothes, underwear, shirts, T-shirts, dresses, skirts, chiffon shirts and other thin clothes! Imitating the hand shape to rub the wave wheel, energy saving and environmental protection, a must for traveling people.


Features:

✔Built-in clutch
✔Turbine forward and reverse cleaning
✔Artificial intelligence interaction
✔Ultrasonic high frequency vibration
✔Imitating manual cleaning methods
✔Low noise,≤45dB
✔Intelligent interactive switching: After the pulsator works for 6 minutes, it exchanges for 2 minutes of ultrasonic work.
✔Anti-winding technology: the washing machine will start ultrasonic work after being wound up and down 4 times.
✔Forward and backward interaction: After the wave wheel rotates forward for 20 seconds, it is switched to reverse installation for 20 seconds.
✔Timed shutdown protection: The washing machine works for 30 minutes, and the shutdown program is automatically protected.


Specifications:
Casing Material: ABS
Material of the bucket: PP+TPE
Power Supply: USB
Output Power: 24W


Warm Tips:
1. The mini washing machine is designed in a single-person style, suitable for personal laundry capacity, suitable for 1 kg laundry capacity, please wash in batches if you have more clothes.
2. When the portable washing machines is working, do not stay away from people. After washing, please unplug the power outlet immediately.
3. When the turbo washing machine is rotating, please do not touch the fan blades of the turbo to avoid accidents.
4. Do not dip the USB power plug into water or other liquids to avoid short circuit and burn components.


What You Will Get
◆1*Host
◆1*Folding bucket
◆1*USB charging port
◆1*User Manual
| | |
| --- | --- |
| SKU: | B0CBJGJ178 |
| Weight: | 800 g |
| Dimensions: | 10 x 10 x 25 cm; 800 Grams |
| Brand: | bubbacare |
| Part: | white01a |
| Colour: | White01a |
| Batteries Required: | No |