Palestine Flag 3×5 Outdoor – Black, White, Green and Red with Triangle Design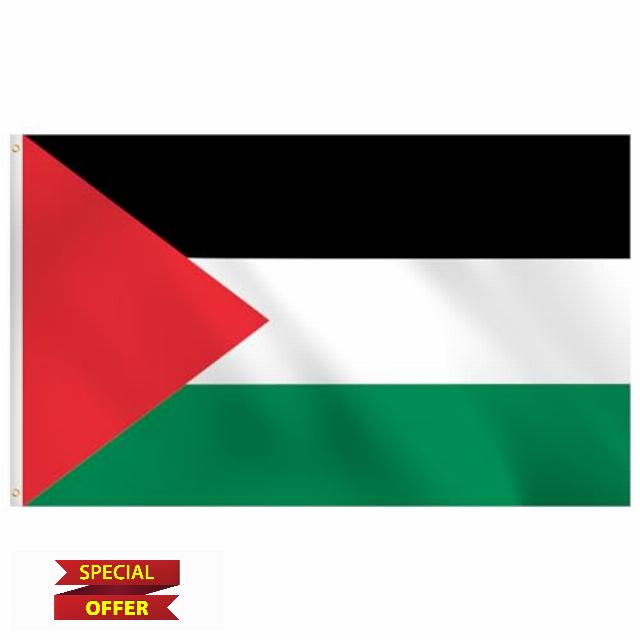 Palestine Flag 3×5 Outdoor – Black, White, Green and Red with Triangle Design Flags Hanging Country National Palestinian Flag with Brass Grommets for Independence Celebration Indoor Home Decorations
High-Quality Palestine Flag – Crafted from superior polyester material, this flag promises longevity and the maintenance of its vivid colors. Built to brave the elements, its black, white, green, and red hues symbolizing Palestinian heritage remain bright throughout the seasons.
Easy to Hang – Equipped with sturdy brass grommets, this flag ensures a hassle-free hanging experience. Whether it's atop a flagpole, affixed to a wall, or another conspicuous spot, it stands as a respectable symbol of your connection to Palestine and its deep history.
Lightweight with Distinctive Colors – Made from a featherlight fabric, this flag is effortlessly manageable while showcasing its noticeable black, white, green, and red colors. The triangle design at the hoist captures Palestine's essence, providing a captivating display that inspires national pride.
National Pride and Acknowledgment – Flying this Palestinian flag signifies more than just an appreciation for the land; it's also a tribute to significant milestones like Palestinian Independence Day. It's a symbol of unity, tradition, and the resilient spirit of the Palestinian people.
Indoor and Outdoor Presentation – This flag is adaptable, fit for both interior and exterior displays. Whether placed in homes, workplaces, gardens, or public arenas, it serves as a continuous reminder of Palestine's enduring legacy and history.
---
From the brand