Pro-Lift Car Dent Puller, 2PCS Car Dent Remover Tools for Car Dent Repair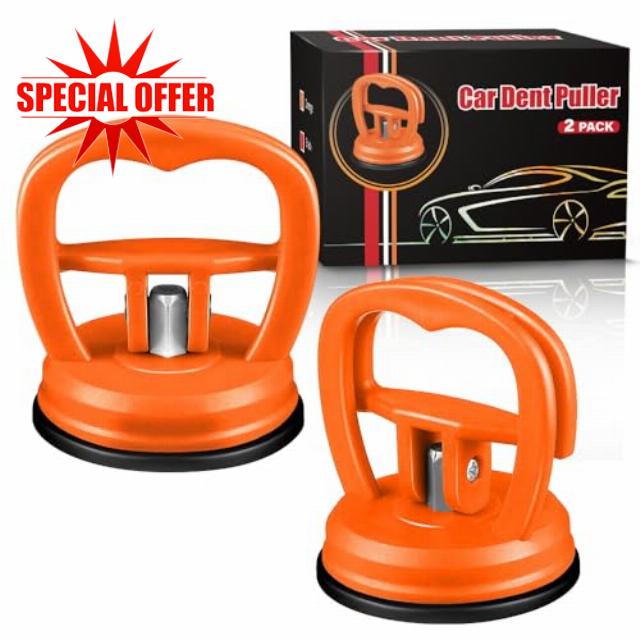 Pro-Lift Car Dent Puller, 2PCS Car Dent Remover Tools for Car Dent Repair, Glass, Screen, Tiles & Objects Moving
STRONG SUCTION FORCE – This dent puller kit's maximum horizontal suction is 130 lbs, and the maximum vertical suction is 80 lbs.
PREMIUM MATERIAL – The handle of the suction cup dent puller is made of solid ABS which has extremely hardness, is welded to the sucker so firmly that the handle will not break easily, is solid and durable, has a long service time. The soft rubber pad is gentle on dent surfaces and won't scratch the paint.
EASY TO USE – Clean and heat the dent with hot water, start operation from the shallow concave line then press hard and make sure the suction cup fits seamlessly, gently pull the suction cup up by using the handle, the dent surface will be pulled up with the dent puller.
WIDE APPLICATION – The suction cup is a great car dent removal tool. In addition, this suction cup dent puller is good at moving furniture, glass, tile, etc. And it can be used as the door/window handle, cell phone holder, and so on.
NOTE – As car dent puller: 1. The sucked area of the sucker should be relatively flat to ensure that the sucked area of the sucker can discharge air smoothly and form a vacuum. 2. It is forbidden to use this product when the car paint is cracked or damaged in the recessed area. 3. When the recessed area of the vehicle is extremely irregular (the suction cup cannot effectively discharge air), the method of multi-point adsorption and simultaneous pulling can be used.
›
How to Use for Dent Repair Puller?
1. Before handling the dents, make sure that the dents are smooth and dust-free.
2. Before using the suction cup, heat the dented area first use a heat gun to heat to 80-100'c ( 176-212 F ) or pour hot water at 80-100oc ( 176-212f ) on the dented area.
3. According to the diameter of the dent, the suction cup combination can be used flexibly to repair the dent. After heating the dented area, quickly place the suction cup on the car dent, and then pull it out horizontally.
Package Includes:
dent puller X2
box X1
| | |
| --- | --- |
| SKU: | B0CKT2RSD5 |
| Weight: | 80 g |
| Dimensions: | 10.2 x 7.2 x 6.2 cm; 80 Grams |
| Brand: | Pro-Lift |
| Manufacture: | FA |
| Reference: | labaqi-oo |