Inseego MiFi M2000 5G and 4G LTE Hotspot T-Mobile Unlocked | All Day Battery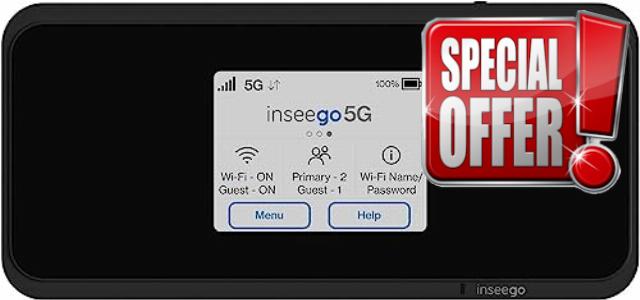 Inseego MiFi M2000 5G and 4G LTE Hotspot T-Mobile Unlocked | All Day Battery Life | WiFi 6 Technology
5G Wi-Fi On The Go | Wi-Fi 6 | Enterprise Grade Security | Advanced Device Management
All Day Battery w/ Qualcomm Quick Charge | Supports up to 30 Wi-Fi Enabled Device
The 5G MiFi M2000 is built for speed, with multi-gigabit 5G performance, Wi-Fi 6 technology (connecting up to 30 Wi-Fi devices) and fast, seamless 4G LTE fallback.
This groundbreaking gateway brings the power of 5G to AR/VR users, first responders, mobile workers, remote offices, high-speed streaming, gaming and many other applications.
With go-anywhere mobility, all-day battery life and quick-charging technology, the 5G MiFi M2000 gives you the freedom to perform at your best and experience a new world of wireless amazement.
Work, learn and play seamlessly with fast 5G speeds on Americas largest 5G network. Wi-Fi 6, WPA3 and Enterprise Grade VPN support ensure your data is protected and secure. Connect up to 30 Wi-Fi enabled devices wirelessly or securely tether a single connection using the USB Type-C port. The 5050mAh battery will keep you up and running all day, plus you can use it as a battery bank to charge your phone, tablet or other mobile devices